Unsung
Vincent Stuer, Valentijn Dhaenens
SKaGen & KVS, Theatre Royal Plymouth, Richard Jordan Productions in association with Big in Belgium and Summerhall
The Drum, Theatre Royal Plymouth
–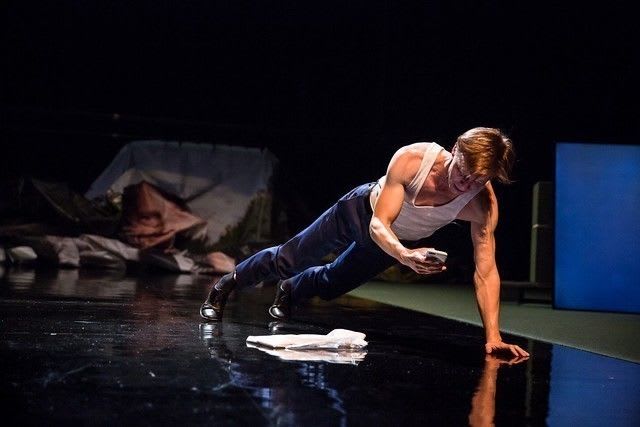 The psychology of politics is laid bare (and naked) in a no-holds-barred probe into the psyche of the men and women who choose to run for office with all too familiar inflated egos, back-stabbing and rhetoric on show.
Valentjin Dhaenens (who impressed here previously with BigMouth and SMallWaR) returns with an incisive, cleverly observed one-man show exhibiting the public figure and private life of one slippery chancer, scrambling over his running mate to grasp top spot, practising emotion and devising strategy to win votes.
With text by Belgian political advisor and speechwriter Vincent Stuer, quotes and anecdotes from nearly 100 politicians—from Disraeli through the Kennedys to Trump—are condensed and recycled into an archetypal homo politicus, and this is the story of fanning the flames of opportunity, a brief blaze of glory followed by ignoble self-immolation. Modern-day Shakespearean hubris all the way.
Egotistical cliché-ridden speeches full of platitudes, anchors, compasses and holistic roadmaps are practised, down to the last air punch and solitary tear, so obediently radial party members and the dishonest press are swayed by meaningless, insubstantial puff and votes won.
Behind the public orator, uniformed in yet another white shirt but perhaps having shed the tie, there lies the self-obsessed egotist convinced the good of the party means an 'et tu Brute?' moment with Fatso; the absent dad singing daft songs on Facetime with his son; the dutiful husband calling his pin-up wife from yet another hotel room and the lover sending risqué comeuppance photos to his mistress.
Dhaenens is mesmerising, the production slick and the content chimes and—with bonking Boris, sleazy Trump and the likes of Sarkozy and Putin elected leader—much to recognise.
Worth 75 minutes of anyone's evening.
Reviewer: Karen Bussell