untitled f*ck m*ss s**gon play
Kimber Lee
Royal Exchange Theatre, Factory International for Manchester International Festival, Young Vic and Headlong
Royal Exchange Theatre
–

Listing details and ticket info...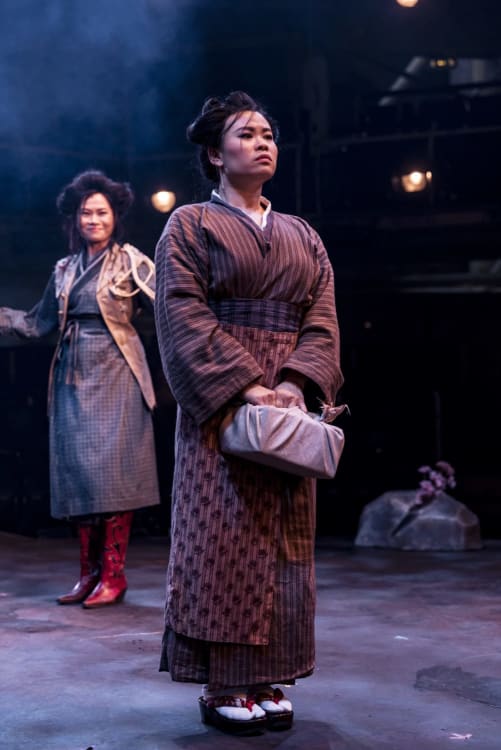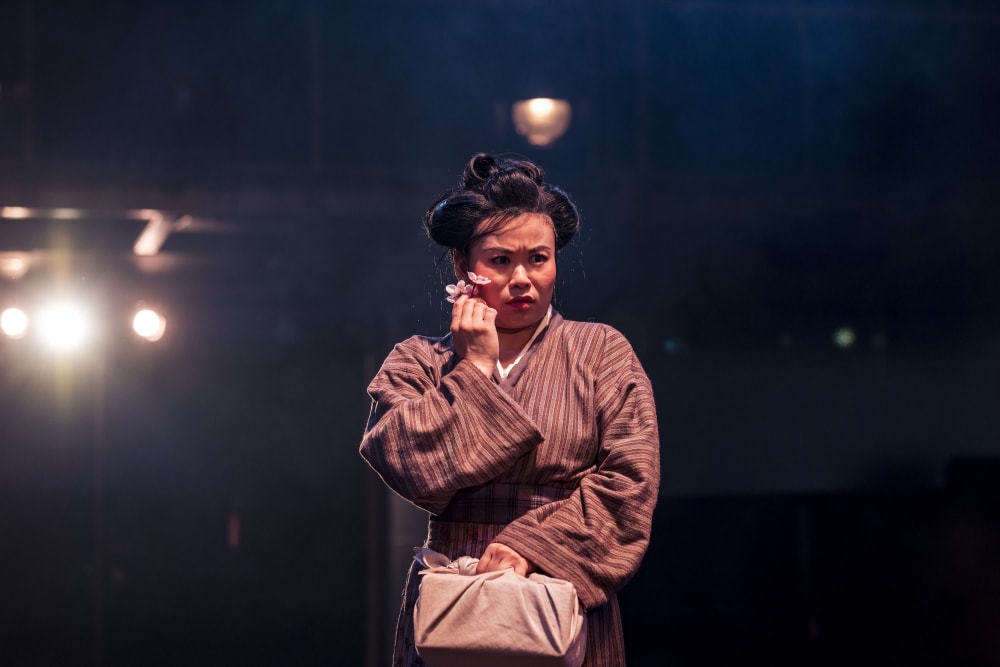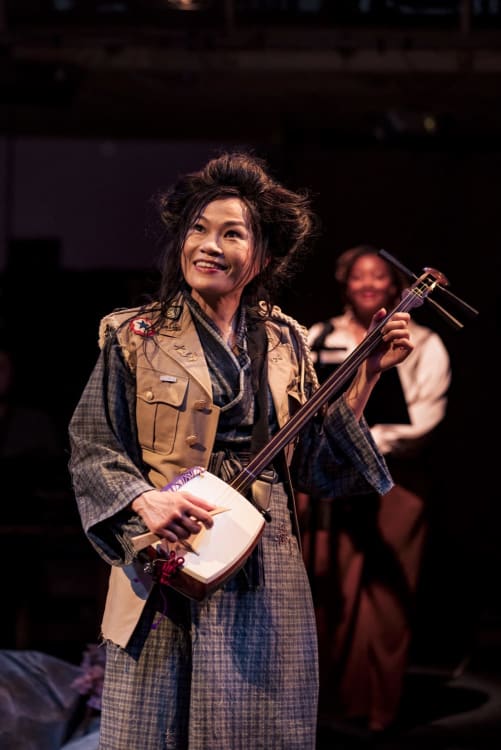 It's hard to know where to begin with this inaugural winner of the Royal Exchange's Bruntwood International Prize from 2019, it packs so much into its interval-less two hours, but outgoing Co-Artistic Director Roy Alexander Weise's production flies by at a fair old pace.
It begins not with the musical referenced in the title but in its source, or something resembling it, as we are taken to the Japan of Madama Butterfly, on which Miss Saigon was closely based, in 1906. Young, virginal Kim (Mei Mac) is told by her overbearing mother Rosie (Lourdes Faberes) that she should forget the boy who sells fish and hook up with an American so she can have a better life. A ship arrives and and Clark (Tom Weston-Jones) arrives, an all-American guy with chiselled features who speaks in random Japanese-sounding words (a bit 'Allo 'Allo). Rosie sings a Japanese-sounding version of "Proud Mary".
Rosie performs a marriage ceremony without him knowing, he has sex with Kim and he disappears for four years, returning with his wife, Evelyn (Jennifer Kirby). After a confrontation, the American couple take Kim and Clark's child and Kim stabs herself. Cut to the South Pacific during World War II and this time it is Kim's fiancé Afi (Jeff D'Sangalang) who sells her to Clark, who arrives by plane. Afi sings Chaka Khan's "I Feel For You", but the ending is remarkably similar, if a bit swearier.
Then we jump to other stories in other times, but just repeat the same ending—1953 Korean War where M.A.S.H was set, then eventually 1975, Vietnam—where Kim is starting to try to resist her tragic ending, trying not to lose her child or kill herself, but each time she is inexplicably compelled to do both. Eventually, she appears, though apparently not sure how she got there (like in Quantum Leap, if you remember that '90s TV show), as a 2023 Kim in a swanky New York flat as the rest of the cast arrive for an engagement party, but this time she is in a fighting mood.
All of this is supported by a great deal of narration from Rochelle Rose, which sounds like she is reading out the action parts of a movie script but so as to point out the clichés in the representation of the people and places of the Far East through Western eyes—this could quickly get wearing if not done well, but fortunately it is. Kim's mission seems to be to wrest control of her story from the Narrator and narrate her own ending.
The title seems to suggest something more confrontational for the audience, but actually it's very funny while still getting its point across—in fact it is through humour that writer Kimber Lee gets the audience to understand her message (didn't Mel Brooks once say that ridicule is his most powerful weapon against the Nazis, or something like that?). But it's not all one-sided; Rosie has a lengthy speech, delivered earnestly, about how the young people feel the need to find fault in everything and when she saw the movie The World of Suzie Wong, while its representation may not be perfect, she felt validated by seeing a face like hers on the screen.
The form of the play goes from something like Groundhog Day to a version of The Truman Show to an ending that plays with the role of the narrator like in Into the Woods, but through these possible influences, Lee has created something in a style that is very much her own that plays with the audience's expectations before tying up Kim's story in a satisfying, hopeful way (I'll say no more on that).
This is all performed by a very strong cast, totally committed to the concept, on some impressively elaborate sets by designer Khadija Raza that are formed before our eyes in a way that the Exchange does so well.
A very entertaining couple of hours with a serious point to make that is definitely worth seeing.
Reviewer: David Chadderton