Unveiling Hagar
Gloria Tessler
Golding–Stern Productions
New End Theatre
(2010)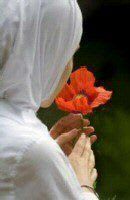 The twin powers of religion and politics have long offered scope for playwrights and Gloria Tessler's Unveiling Hagar combines the two in the tale of Max (a Jewish widower) and Layla (a young Palestinian student) who fall in love whilst living in London.
The pair face opposition from family in the form of Max's former sister-in-law Joan (a perfectly measured performance by Jennie Lathan) whose tutting, rude out bursts and snide comments make life as difficult as possible for Layla. Their final showdown depicts a relationship nearer to mother and daughter-in-law and it is in these domestic scenes that the play excels.
Richard Woolnough as Joan's relaxed husband Daniel offers a good foil to Lathan's blustering and he executes his comic one liners with confidence. The character of Mrs Barnes, Max's next door neighbour, also offers comic relief and Ellie Dickens clearly relishes the kindness but yet complete ignorance of her character. The actors fill these parts well but, with the exception of Joan, the characters themselves are written as little more than sketch show parodies.
Even with bright supporting characters the comic moments cannot compensate for the lack of connection between Shani Erez (Layla) and David Sparks (Max). Whilst still mourning the death of his wife Max saves Layla from an attack in his local park and this begins their story. Erez offers a strong performance as the complicated young woman and Sparks is a likeable enough older man yet their repetition of debates leading to mutual understanding does not justify either a wedding or the choice of ending. The staccato scenes slow the pace and whilst the inclusion of a cellist would theoretically add to the atmosphere, given the small corner of the stage she occupies a soundtrack would have been just as effective.
The themes of this production should promote a passionate response and yet the uneven elements of domestic comedy and serious emotion cloud any sort of response at all. There are also some questionable moments of staging in which food is prepared in the sitting room and characters just seem to wander in and out of the house, a Jack Daniel's bottle is apparently full of sherry and a salad is enough to 'make a man blossom.'
The script tries to ask serious questions regarding identity, personal history and the role of an individual on the world stage. The production unfortunately fails to answer them.
Reviewer: Amy Yorston