Up and Out Christmas Sprout
Laura Lindow, music by Tim Dalling
Northern Stage
Northern Stage, Newcastle.
–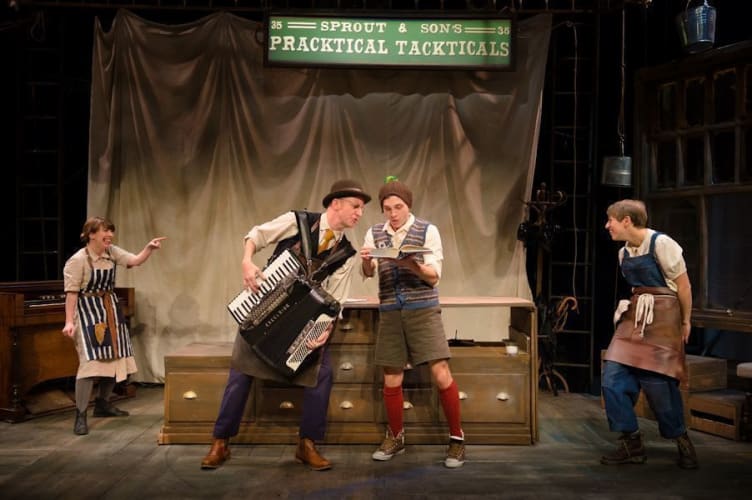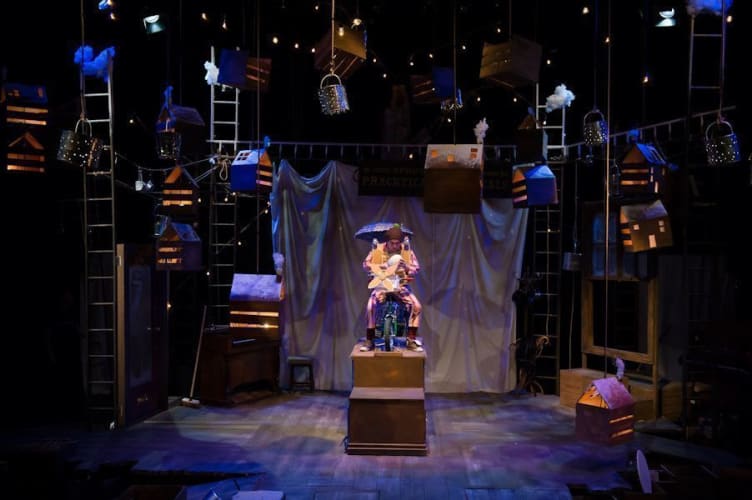 The hero of this year's Northern Stage Christmas show for the under-6s is William Russell Sprout (Willie for short) who lives with his dad in their hardware shop, Sprout & Son's Pracktical Tackticals. Willie doesn't like change of any kind but when, one Christmas Eve, the mysterious Hether Grether and an even more mysterious egg are magicked into the shop, Willie is forced to go on a quest which will take him not just past the end of the street (which is the furthest he has ever gone before) but to the Back of Beyond!
On that quest he has to push himself beyond what he thinks he can do, even to taking a (both metaphorical and real) leap of faith. And he has to fly through the sky in a rocket and deal with two thieving magpies. He even has to learn to accept that not everything is in his "Bumper Book of Facts"!
There are lots of things in the show which appeal to kids: there's participation (especially shouting out – always popular, especially when encouraged, as here, to be as loud as possible); there's close contact with the cast; there are shadow puppets (albeit rather small and rather grey so they don't stand out as well as they should) and two wonderful magpies made out of umbrellas; there are some slightly rude bits (always popular!); there's a bit of humour, even silliness (always welcome); there's a set (by Lily Arnold) which is flexible, wonderfully detailed and full of surprises, and there's music, played live on a variety of instruments by composer Tim Dalling, who also plays Willie's dad.
In fact, much of the story is told through song but it's slow and not particularly melodic - not the sort of thing the kids would (or could) sing or even clap along to (although at one point they did give the clapping a try, but it petered out) - and it slows down the action so that neither Laura Lindow's writing, Annie Rigby's direction nor the energy and brightness of Hannah Goudie and Karen Traynor (both playing numerous parts) could create and maintain the fast pace that is needed. The two men (Dalling and Tom Isted as Willie) did little to inject any pace into the piece, with Isted seeming almost tentative and Dalling focused on the music.
There's much to like here but it doesn't quite hit the mark.
Reviewer: Peter Lathan