Up Down Man
Brendan Murray
Myrtle Theatre Company and Salisbury Playhouse
Salisbury Playhouse
–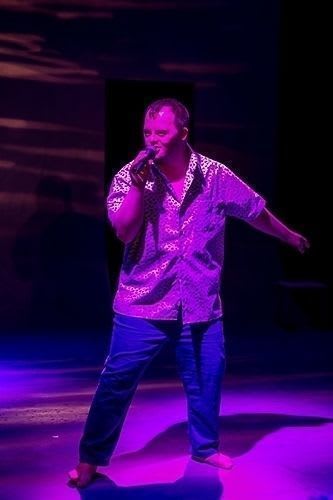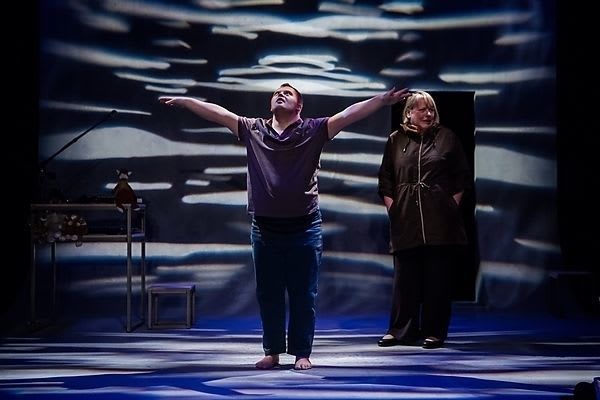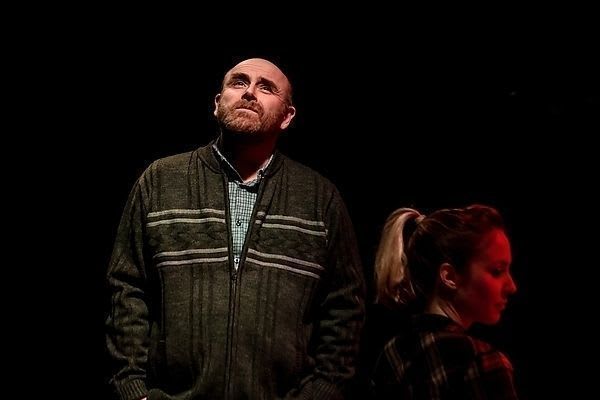 We met Nathan Bessell first back in 2012 in Up Down Boy, where he played Matty Butler, a Down's Syndrome boy coming to terms, not only with his disability, but with the prospect of having to leave home and family for the first time. The play was so successful it went on tour and even played at the Shed, the temporary building erected while the Cottesloe was being refurbished at the National.
Now in his late twenties, in Up Down Man, Matty is experiencing another, even more traumatic event: the recent death of his mother. How will he cope?
We're in the Salberg, the Playhouse's studio theatre. There's one entrance and a stand for some musical instruments, including a xylophone and a flute. The multi-talented Kieran Buckeridge, composer as well as actor, musician and dancer, will have access to these. Otherwise, the extensive floor space is bare, necessarily so, for whenever Matty has a problem with other means of communication, he is always able to express himself through dance and movement, accompanied always by a pulsing drumbeat and Kieran's atmospheric music.
Matty lives with his father, Martin (Vic LLewllyn). His mother, Odette, played with gentle humour by artistic director Heather Williams, died just six weeks ago, although her influence on them all is so strong it makes perfect sense that she should be an actual physical presence, making her comments as if she were still part of the family. Which of course she is.
When Matty wishes he had a friend, a boy friend, she observes, "some like men, some like women. Some just like a cup of tea." Nothing phases her. And she loves Matty—but not to the detriment of her other four children. "It's not that I love him more. I love him different," she explains. He's her "wonderful alien." "Matty," she tells him, "I'd change the world but not you."
Her advice to the family on coping with life without her? "Get Matty to help you. It'll be a start."
So what kind of young man is Matty, really? He loves foxes, television, bowling and football. His ambition is to have a friend and a dog and to "be happy."
But how is he affected by his mother's death, if at all? He certainly knows. And cares. As he unpacks and shows us the contents of his memory box, the urn with his mother's ashes, the candle, the tin of memorial biscuits, his mother's scarf, and then reads from her book of poems, Never grow up and leave me, I think we're all groping around for tissues.
Many poignant moments in the play, then, like that tender pas de deux where Matty dances with his imaginary friend (choreographer Bryn Thomas) and the scene with his sister Darcy (Emily Bowker) as she tries to reassure him about his future.
And what about the planned party to celebrate his parents' fortieth wedding anniversary? In the sad circumstances, it surely can't go ahead, can it? It will if gentle Matty has his way.
As Mum says about Matty, "we've been busy being angry and sad and frightened. He's remembered what's really important—love."
I don't think, when it leaves Salisbury, this is the last we shall hear of Up Town Man. I wouldn't be at all surprised if it found its way at some point not just in the Shed but in the National Theatre itself. It really is that good.
Reviewer: Anne Hill