Up Against the Wall
Felix Cross and Paulette Randall
Octagon Theatre, Bolton
(2009)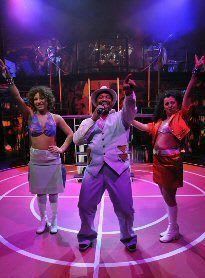 After 2007's The Wedding Dance, the Octagon once again collaborates with Felix Cross and Nitro on this new show written and directed by Cross with Paulette Randall and packed full of soul and funk hits of the 70s.
Henry is the lead singer of The Emperors of Funk, a 70s soul funk band, but a failed relationship with singer Claudette has left him with one person short in the band. In comes Gloria to fill the role, bringing to Henry the idea of trying to get into the Funkfest festival on the same bill as their heroes Earth Wind and Fire. However when the Funkfest talent scout comes to see them, he only wants the girls and the musicians, not Henry or the other male voice Courtenay.
That is pretty much the whole story. The plot is thin, to say the least, and is really just an excuse to get from one song to the next. The dialogue isn't always particularly well-written or well-delivered, but there are some funny moments. The highlight is probably where Ann-Marie Roberts, who plays both former band member Claudette and new member Gloria, plays both parts in the same scene, first arguing with one another and then fighting, which is superbly done and hilarious. The conceit of having the other two backing singers speak only using song titles is interesting and mildly amusing at first but quickly wears thin.
This show, however, is all about the music and the outrageous fashion, and on both counts it scores very highly. The show opens with that very distinctive funk guitar sound that goes into Isaac Hayes's famous theme to Shaft, which is ideal to set the mood of the show. Other musical highlights include "Car Wash", "Sex Machine", "Boogie Wonderland", "Superfly" and many more.
Donovan Blackwood makes a great front man with a superb voice as the loveable but unpredictable Henry with an amazing wardrobe, even coming out at one point wearing a nappy. A J Lewis is his male backing singer and sidekick Courtenay with some similarly outlandish costumes and a great falsetto voice. Ann-Marie Roberts is wonderful in the dual role of Claudette and Gloria with an incredible voice. Shelley Williams and Danielle Henry are the other two backing singers Jenai and Leshai.
The five-piece band is absolutely superb and looks great as well; any band led by someone billed as "Joseph Roberts aka The Duke" has got to be the real thing.
There are some great 70s touches in Libby Watson's set design, especially the mosaic backdrop, and even in Matthew Eagland's lighting design, such as the beautifully-lit falling glitter and an effect a bit like an oil projector. However the sound needs sorting out; even if we put the occasional feedback down to teething problems with a complex microphone plot, the general PA sound is very dull and distant-sounding, which is not acceptable for a show with such a high reliance on amplified music.
This is not a show for someone looking for great drama, riotous comedy or even a good story, but for anyone who enjoys live music well-performed and a laugh at the fashions of thirty-odd years ago, this is a good night out.
Until 28th February
Reviewer: David Chadderton