Uprising/In Your Rooms
Choreography by Hofesh Shechter
Northern Stage, Newcastle, and touring
(2008)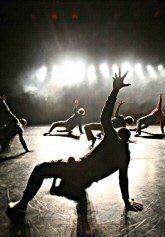 As I came out of Stage 1 in Northern Stage at the interval, having watched the 25 minute Uprising, many words and ideas were circling around my brain: tribal, apes, Haka, violence, hip hop...
Uprising is a piece for seven male dancers, wreathed in smoke, darkly lit, full of suppressed (and occasionally not so suppressed) violence, accompanied by an almost industrial, pounding score in which drums (Shechter was, in a previous life, drummer in a rock band) dominate. The men meet, get close, fall apart. Their movement is fast, disjointed, simian in its knuckle-dragging travel across the stage. There are echoes of hip hop (I was reminded once or twice of the breakdancing "jam" in which each participant shows off his skills), the Maori Haka and even a rugby scrum.
This is a piece which mercilessly anatomises male relationships, not in a homoerotic sense (although there are the occasional undercurrents) but simply in the way men relate to each other: a need for comradeship but an equally powerful drive for dominance. The movement is violent and energetic, often twisted and disjointed, but always impeccably controlled, with order always emerging out of seeming chaos.
The second piece, In Your Rooms (which at 40 minutes did seem a little long to me), gives us eleven dancers, six men (Shechter himself does not appear in this one) and five women. What are the rooms? Our minds? Our souls?
The piece is fragmented: sometimes the whole stage is lit and filled with dancers; sometimes for just few seconds one or more are still or writhe, isolated by the light, and in a flash the scene changes. We are looking at bits, tiny individual stories or larger interactions, in the characteristic contorted, disjointed, high energy movement we have come to expect from Uprising.
Neither piece gives us an attractive view of life: there is angst and agony, yearning and disappointment, constant searching - bleak indeed. But this is all on an individual level: unlike the piece I reviewed earlier this week, Matthew Bourne's Dorian Gray, in which it is society and its demands which provides the bleakness, here it is in our minds and souls, as we flick from one thing to the next, like TV channel-hopping - which is what the very short fragments are so very reminiscent of.
Mention must be made of Lee Curran's superb lighting, which doesn't merely illuminate but adds immensely to the emotional effect, and the music, written by the multi-talented Mr Shechter (who also provides a voice-over commentary for In Your Rooms), which reflects the movement and drives both pieces forward.
Shechter is very young, just 32, and has had a meteoric rise as a choreographer. One can only wonder what he will achieve in the future.
"Uprising/In Your Rooms" tours to Nottingham, Sheffield, Salford, Coventry, High Wycombe, Cardiff, Poole, Brighton, Brecon and Truro,where the tour ends on 2nd December.
Vera Liber reviewed a re-worked variation of this programme in 2009, part of Sadler's Wells at the Roundhouse
Reviewer: Peter Lathan