Up From the Waste
Written and performed by Antonia Franceschi
Soho Theatre
(2006)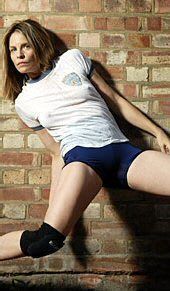 It is not often that one is faced with an author and main protagonist rolled in one. Antonia Franceschi manages to combine the two and comes out in relevé.
This is the story of a 16 year old ballet student in New York where her social background could have led her to prostitution or worse, but for her passion and aptitude for ballet which was spotted by a well known choreographer.
The dramatic opening of a chest-deep male voiceover fills the auditorium and is followed by spotlights revealing three ballet dancers, leading to a journey down memory lane.
It rapidly becomes clear that Franceschi is the axis of the performance. We follow her through dance, mime and monologues of characters that she encountered in her early life where sex, drugs and dead-end alleys dominated childhood and into her early teens.
The drama consists of snap-shots from events that took place in her life from the age of ten. As with a slide show, we move year by year up to the starting point of the play, in full circle, having shared with her the maze of dark alleys emerging where 'the air is sweet and open' and where 'there is no fear or shame'.
Nancy Meckler, the director, incorporates fuzzy silhouettes which are projected and alternated with clear pictures of ballet classes. This is merely a backdrop which blends with the beautiful pieces of music chosen from Philip Glass, The Jackson 5 and Puccini's Turandot (no, it was not Nessun Dorma!).
Franceschi moves on stage with an ease of a swan stretching her limps gracefully. Her ability to move with humour from dance to mime to acting beckons the audience to get closer to the events taking place on the conveyer belt of mixed memories.
The rough as well as the kind friends she encountered are one-dimensional characters whose actions do not personally impact on her.
The choreography, music and Franceschi's performance with that of the two excellent supporting dancers, Nina Thailas-Mohs and Ewan Wardrop, create an impressive ensemble.
Running until 11th November
Reviewer: Rivka Jacobson