Urban Dreams
London Bubble
The Scoop
(2008)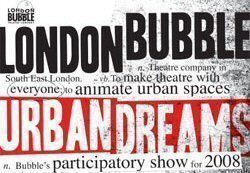 This summer the London Bubble promenade show which has been one of the delights of London's outdoor theatre calendar was sadly missing: the result of the Arts Council's draconian cuts, but the company has managed to continue its community work, and most successfully, as is evidenced by this production with a company of sixty performers.
Begun with a serious of workshops in various parts of London followed by four weeks of rehearsals, it has already been seen in a number of parks and open spaces in Southwark, Deptford, Lewisham, Sydenham and the Elephant and Castle. A final performance can be seen on Sunday 29th September in Cutty Sark Gardens, Greenwich. I caught it in Bermondsey, in the performance space next to City Hall on an evening that was perfect for it. The weather has been much kinder to Bubble than the Arts Council, it has turned up trumps for all performances so far, not that has mattered so much in the past. I remember one performance a year or so back at Greenwich when there was torrential rain that grew in strength as the show progressed: but Bubble creates such a spirit in its casts and audiences that we all stood it out and they ended the show playing in close proximity in the refreshment tent - one of the most enjoyable theatre experiences I have ever had.
Urban Dreams is not a feast of great acting but it was created by more than 150 Londoners of all ages through a series of workshops across the city followed by four weeks of rehearsal to create a show involving a diversity of ordinary people in the magic of the theatre. It is a sort of meditation of sleep and dreaming. There is a text by Jennifer Farmer but it is not a matter of dialogue and acting so much as ensemble performance. This is a composite of physical, visual and musical theatre that director Jonathan Petherbridge has welded into a succession of moods and images that capture the landscape of dreams and their perpetual morphing into new ones. He draws dedicated work from the participants who are clearly enjoying the personal and communal experience almost as much as the audience who are enthusiastic in their support. Pip Nash (designer), Martina Schwarz (composer/band leader), Linda Dobell (movement director) and Lewis Gibson (soundscape) all make important contributions.
There is a zany sequence in which pupils and teachers seem to be changing roles, a strange episode where free sandwiches are offered to amorphous shapes bouncing around in sleeping-bags before they collapse upon the ground to sleep, a dream of runners overcoming injury, dreams of loves found and lost. My favourite was a sequence of holidaying at Clacton: buckets and spades and rubber rings and picnic baskets on the sands, before they were swept away by what appeared to be a school of swimming white penguins driving all before them.
These performers weren't professionals and it wasn't perfect, but there were magical moments including a gentle wind blowing feathers across the ground (no artifice, this is really live theatre responding to the environment) and a final scene in which performers were brought pillows and, as they fell asleep, coloured ribbon bands were drawn out from them and formed patterns across the acting area before being used to lead them off,. When the space was empty the show was ended by a man with a small boy walking across the stage, the boy wearing the blue head of a pig. Don't ask me what the image meant: I don't pretend to be able to interpret dreams, but I do know that this was work worth doing and London Bubble deserves support. The Scoop is not the easiest place to perform in, especially for non professionals. It offers acoustic and lighting problems, but it has an excellent ambience and is a conventient location for many Londoners. It was good to see London Bubble there.
Last performance Greenwich 28th September 2008
Reviewer: Howard Loxton