Usagi Yojimbo
Stan Sakai adapted by Stewart Melton
Southwark Playhouse
–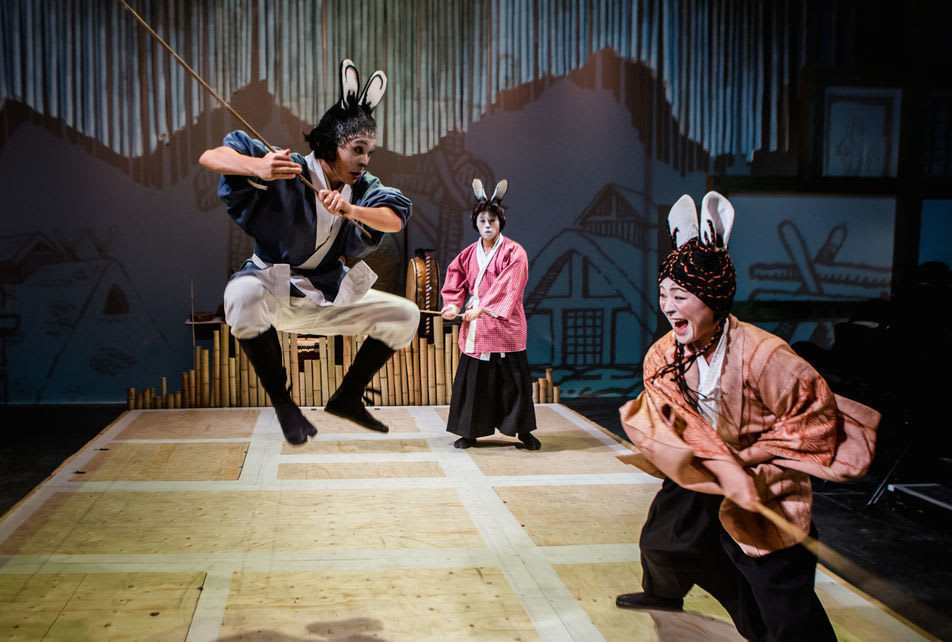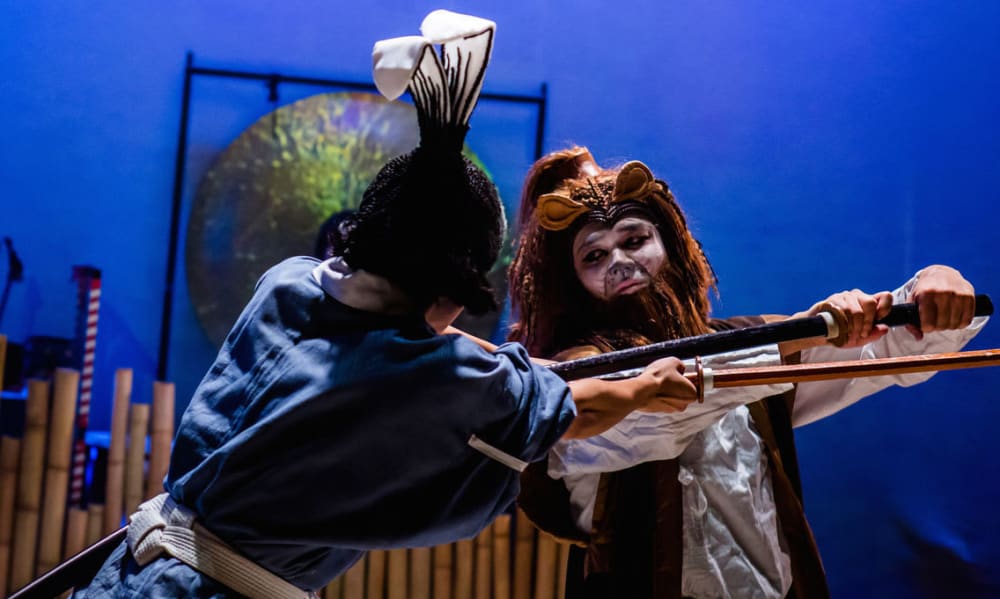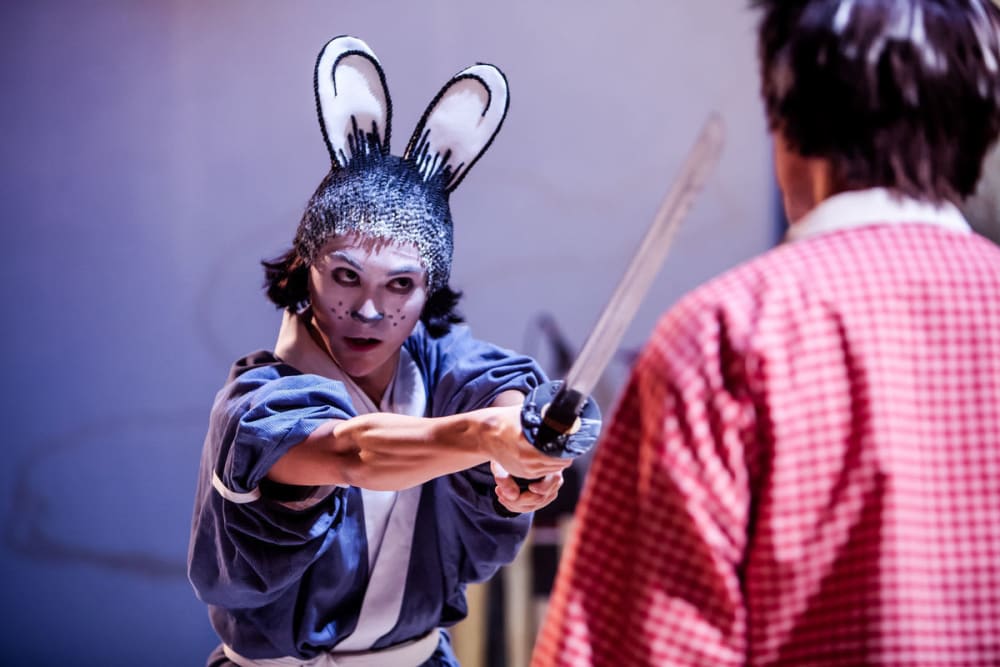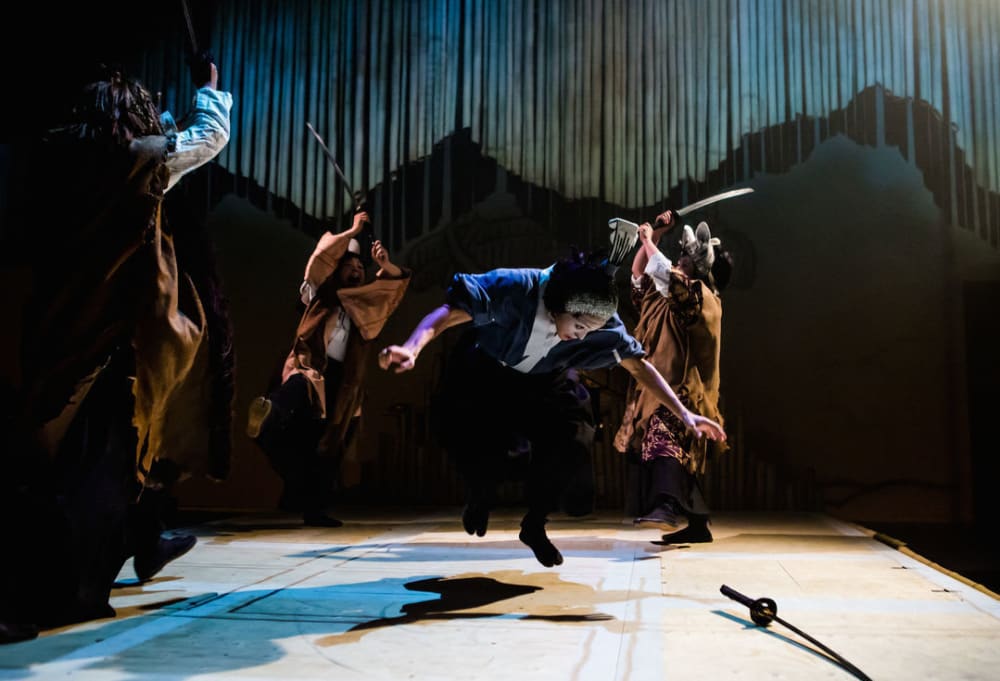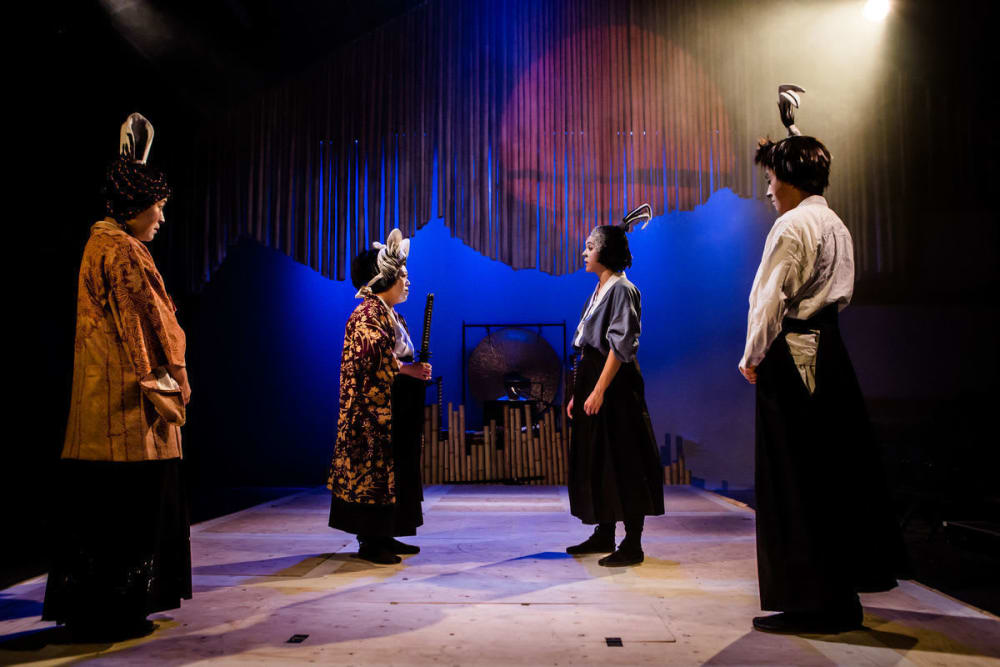 This is an adventure based on a Japanese comic book story created by
Stan Sakai. It is set in the 17th century and tells of a young rabbit who wants to become a great samurai warrior.
Southwark Playhouse has commissioned an adaptation that tries to stay true to the spirit of Sakai's books. Director Amy Draper has kept her production simple and straightforward with just five actors playing all the roles as well as the main characters and design that is clearly influenced by the comic book style as well as Japanese historical costume.
The anthropomorphized animals are played as humans with animal characteristics in both appearance and behaviour (these hoppity rabbits do a lot of jumping).
Usagi's father was a samurai, his widowed mother's father a great sword-maker but he is not to allowed to touch the weapons that were his father's. Eventually his mother relents and, with his childhood friend Kenichi, he sets off for a famous samurai training school. Their friend Mariko wants to go too but she is made to stay at home.
On the way they see the lion Katsuichi, a brilliant swordsman, defeat a band of brigands and Usagi decides this man should be his sensei, the Master who will teach him swordsmanship and the samurai code of Bushido. So begins his training and the story of his journey to win his samurai topknot.
In a production that features some splendid displays of swordplay both in training and in deadly earnest, there is plenty of action, though first young Usagi must learn more peaceful disciplines.
In Ele Slade's uncluttered design, with stage floor cupboards to provide scenic elements and source props, great use is made of Nina Dunn's drawn projections that can drown the stage in rain or perch a predatory bird above a body-strewn battlefield with great precision. Bold, clear-cut costuming, stylized wigs and make-up help create an appropriate mix of human and animal.
Jonathan Raggett brings youthful innocence and determination to Usagi, son of the house of Myamoto, making his stage debut, the spots that simulate his whiskers giving him an extra sprightliness that makes the character endearing.
Siu Hun Li is his friend and rival Kenichi and Haruka Kuroda is Mariko, both personable but letting Raggett take prominence. The script gives them little chance to add depth to character but their own lively personalities win audience identification.
Amy Ip is Atsuko, Usagi's mother and Dai Tabuchi the bearded sensei Katsuichi with braids to hint at his lion's mane. Their roles being older gives them more weight, and though no more strongly written, the sensei's wisdom makes it seem a deeper characterisation. When they switch to being the head of the samurai training school or Lord Mifune, in whose service Usagi finds a place, or marauding samurai and bandits, each character becomes an instant and brief creation.
Constant throughout however is the emotional support and atmospheric colour or the drums and woodwind of musician/composer Joji Hirota, a presence behind the action to make battle more urgent, rain more pelting or to add a piping forest bird or melodic song. He makes a tremendous contribution to the production's impact.
As the audience assemble the actors keep them engaged playing a succession of charade games. It is a useful diversion for an audience that claims its unreserved seats before the starting time but, at least on the night I saw it, went on far too long after that had been reached. Some of the action is a little repetitive, but that may not have seemed so without this extended opening.
For a show aimed at 8 years old and upwards, keeping it mainly action is appropriate but there is little audience participation apart from raising a wind to get a kite into the air and dance is limited to a finale, but the sword play is exciting and the rabbit hero boyish and that will keep the young audience engaged and happy.
Stan Sakai has been creating Usagi stories for 30 years and says he sees this as a perfect 30th birthday present and can't wait to see it. I think he will be very pleased with it.
Reviewer: Howard Loxton