Ushers: The Front of House Musical
Yiannis Koutsakos, James Oban and James Rottger
The Hope Theatre
–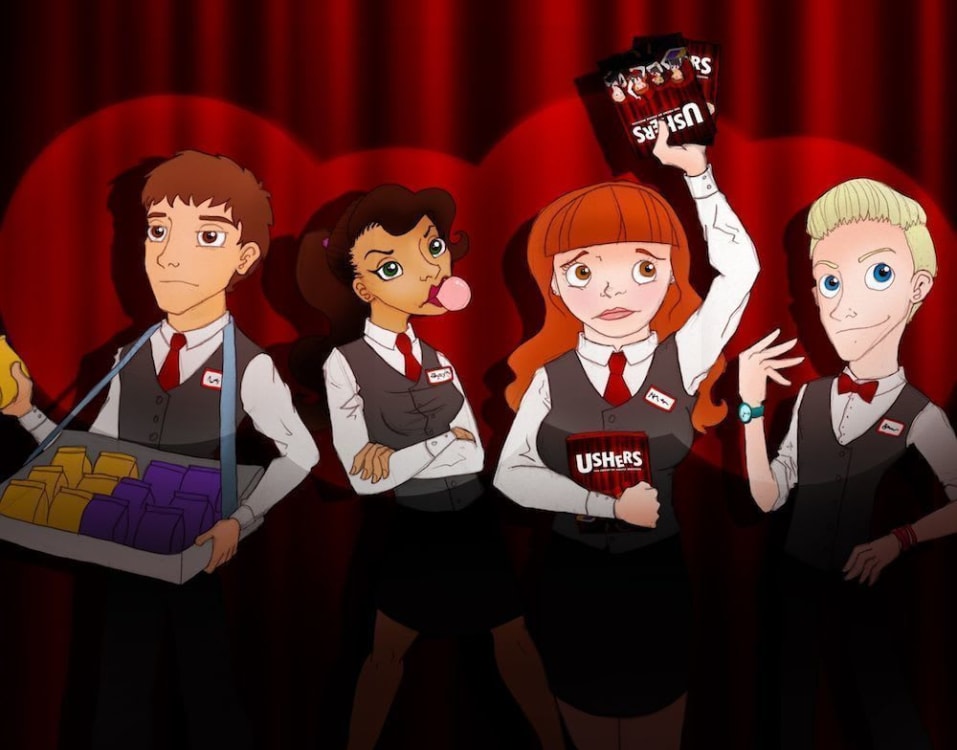 Ushers: The Front of House Musical is a blisteringly funny (and realistic) insight into the trials and tribulations of theatre ushers. It's an absolute gem of a show: rough around the edges, but my goodness does it shine.
As someone who has had the pleasure of working in customer services for over two years at a well-known middle-class establishment (clue: not just any well-known middle-class establishment), I am more than aware of the ridiculous requests made by punters and managers.
The story is simple: it's Lucy's (Abigail Carter-Simpson) first night working as an usher. Her colleagues show her the ropes whilst trying not to upset overbearing boss (Ralph Bogard). There's potential new love interest Stephen (Ross McNeill), top seller Ben (Liam Ross-Mills) and his partner Gary (Will Jennings) and ditzy Rosie (Chloe Brooks). We join them on the VIP night of Oops! I Did It Again—a Britney Spears musical—as they each tell of their longing to be on the West End stage.
Production values are low with rudimentary sound, lighting and set (after all The Hope Theatre is a tiny 50-seater venue). However this does not affect the performance the slightest. In fact, a small venue makes an actor's job much harder for the smallest mistake becomes highly obvious.
James Rottger's book is simple but remarkably effective as each scene is rich with humour. There are innumerable in-jokes about the theatre industry, which theatre buffs will love, as well as topical gags about Tom Daley and the price of theatre drinks.
Ushers misses nothing and comments on a host of theatre attendees. From critics and wannabe stars to late punters, theatre luvvies and, my personal favourite, the snob—of which there are many.
Songwriters and producers Yiannia Koutsakos and James Oban were recently one of five teams that made it to the final of the Search for a Twitter Composer competition, thus marking the beginnings of Ushers. Their score lovingly draws influence from a wealth of other shows including Chicago and Phantom of the Opera, but it remains highly original with its clever, witty (and memorable) lyrics.
Russell Smith's choreography is Fosse-inspired with hints of La Cage Aux Folles at times. Again, it's simple but effective. There is no need for extended, intricate routines and the cast handle themselves brilliantly.
The ensemble work effortlessly together: their voices superb, their energy filling the room. The relationship between Ross-Mills and Jennings is genuinely touching, whilst Brooks's comic timing is spot on, at times resembling Glinda from Wicked. McNeill and Carter-Simpson are a great partnership with Bogard's stereotypical boss also a comic highlight and he plays the villain with style. The talent of this small team cannot be overemphasised and I look forward to seeing them all in their future roles.
It is obvious that this production means a lot to its creative team. It's full of personal little touches that give it the needed depth to prevent Ushers from being one-dimensional. It's a fantastic little production that shows much potential for all involved.
Reviewer: Sean Brooks