Ushers: The Front of House Musical
Music by Yiannis Koutsakos, lyrics James Oban & Yiannis Koutsakos, book by James Rottger
Mathew Cundy and Kouban Productions
St Stephens
–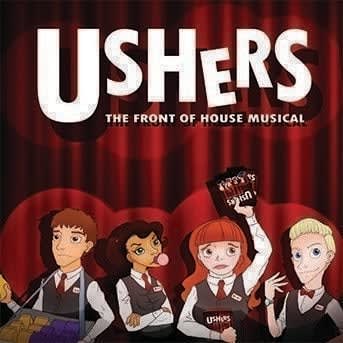 Ushers is a tongue-in-cheek musical that explores the plight of the attendants who sell us programmes, ice creams, show us to our seats and look after our coats as we enter the theatre.
These hard-working front-of-house heroes have their own story to share at the opening of Oops I Did It Again, a jukebox musical featuring the back catalogue of Britney Spears.
The producer of this extravaganza is Sir Andrew Lloyd Macintosser (okay, you get the picture) at his Theatre Nation London venue.
The cast really play the part of ushers as the audience enters St Stephen's Church showing us to our seats and taking coats to hang on a dress rail and the audience really buys into this. This certainly looks like a fun beginning.
The ushers are about to begin their shift and we meet front-of-house manager Robin (Harry Stone) who is always pushing his crew to up-sell and increase the spend per head. He also has a lecherous eye for the ladies.
Lucy (Corrine Priest) is new to the team and has a steep learning curve but is befriended by Rosie (Alexandra Parkes) a "Stagey Ninja" who stalks leading men and takes her under her wing to show her the ropes.
Gary (Ben Fenner) is leaving after four years to fulfil his ambition to join a theatre company, much to the angst of his lover Ben (Rory Maguire).
Then there is Stephen (Cameron Sharp) who is desperate to be an actor and falls in love with Lucy.
Of course all of them want to star in a musical and achieve their dreams and by the finale they do.
This talented cast are really superb; they sing, dance and perform with panache. There are wonderful gags that send up the theatre business and hilarious references to the world of musical theatre with pastiches from such shows as Les Miserables, Cabaret and others.
There are many in-jokes that the "luvvies" will enjoy but it is accessible to everyone.
This is a high-energy production that is thoroughly enjoyable although they do need to work on the sound balance.
Reviewer: Robin Strapp