Ushers - The Front of House Musical
Music by Yannis Koutsakos Lyrics by James Oban & Yiannis Koutsakos Book and additional lyrics by James Rottger
Kouban Productions
Charing Cross Theatre
–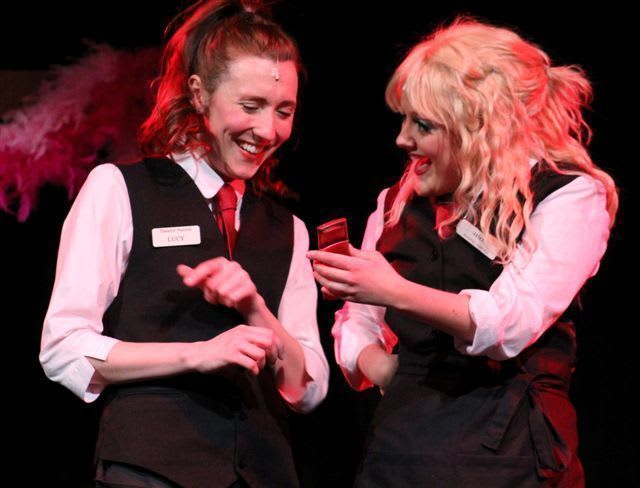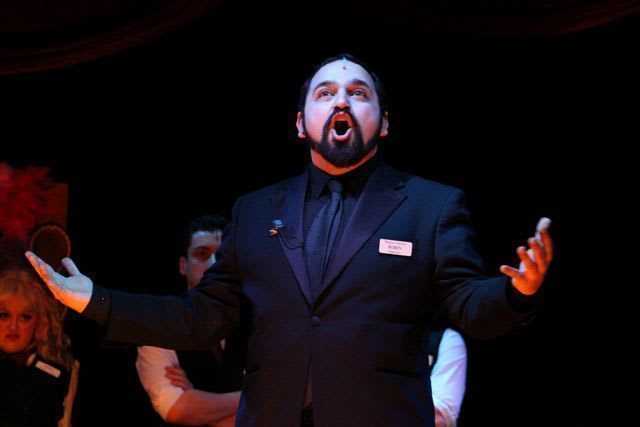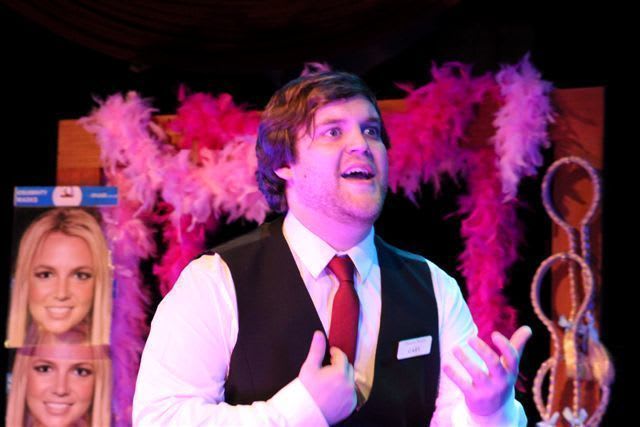 Are you ready for a jukebox musical called Ooops! I Did It Again! based on the Britney Spears catalogue and starring Michael Ball as her mum and Marti Pellow as husband Kevin Federline? That's not the show you came for but it is opening tonight and in this theatre, though don't worry, you aren't going to see it.
Instead you are behind the scenes at front-of-house taking a light-hearted look at what life is like for those smiling faces who greet you at the door, take your tickets and sell you programmes, ice creams and show merchandise. Tonight, manager Robin's regular team of four are joined by a newcomer who has to be taught the ropes while the old hands have problems of their own.
Rosie (Cerise Hine) says she can't stand actors but is a groupie for every star, adding to her collection of leading men with illicit mobile clips to send out on her blog. The rest of them may have been doing it for years but think of themselves as "resting" performers, filling in. Even Robin is an opera singer manqué. As you might guess they are the campest crowd, even if only two of them are actually gay.
Ralph Board makes Robin a melodramatic Machiavellian monster. During the interval tonight he's been invited to join his employer, the boss of Theatre Nation, Sir Andrew Lloyd-Macintosh, in his box. Robin is hoping for promotion but things don't go to plan. He has assigned Ben (Liam Ross-Mills) to be the boss's waiter but that lad has other things on his mind. His boyfriend and fellow usher Gary (Daniel Buckley) has got an acting job in Austria which means a year apart and he's not happy about it.
For Stephen (Ross McNeill), things are on the up, he feels a new romance is starting with Lucy (Carly Thoms) the new recruit, who isn't quite who they think she is.
These personal stories play out as they go about their duties for Theatre Nation. The slight, uncomplicated plot is periodically interrupted by the company training videos all starring Robin—a cute idea but one that needs better material to sustain it. They are meant to satirise the way that theatre owners exploit the punter, but need to be much sharper to warrant their repeated interruptions.
Fortunately there are plenty of tuneful songs to drive the show along, sometimes with a tongue-in-cheek reference to other shows. The lively cast deliver them with vigour, sometimes in competition with musical director Lee Freeman on piano. Ross-Mills and Buckley are particularly touching in gay duet "Loving You is All I Know" and Thoms and McNeill present their budding romance just on the right side of send-up.
Choreographer Russell Smith has cleverly devised steps that make what I suspect are really singers look like dancers (even a tap routine where they don't really tap), though Cerise Hines, blonde blogger, does an amazing slow splits that brought the house down.
Max Reynolds's production still needs a little tidying around the edges but this West End transfer after successfully opening at the Hope in Islington got a wildly enthusiastic response from a young late-night audience who seemed more like clubbers than the usual West End crowd. They loved it.
Reviewer: Howard Loxton