Vagina Cake
Laura Harper
HER Productions & Girl Gang Manchester
Hope Mill Theatre
From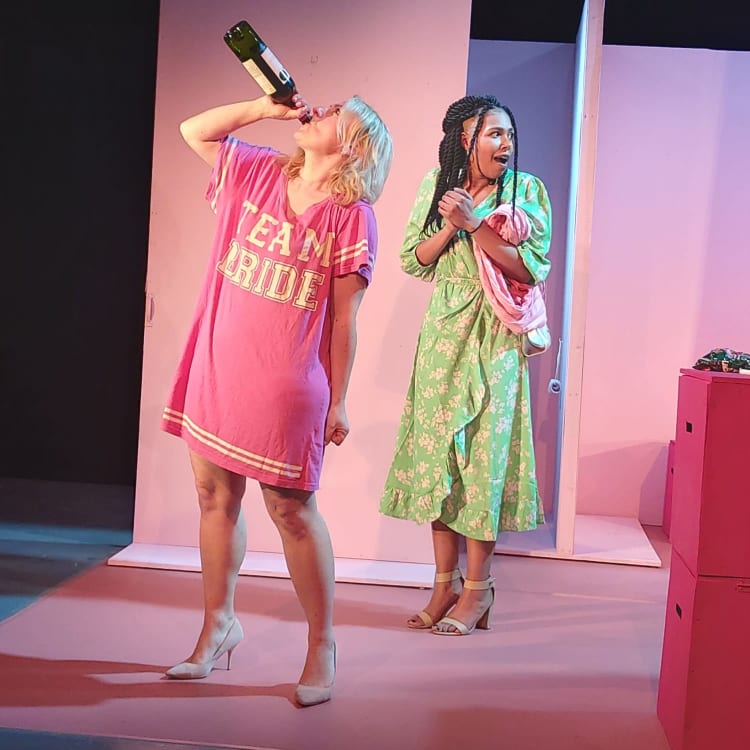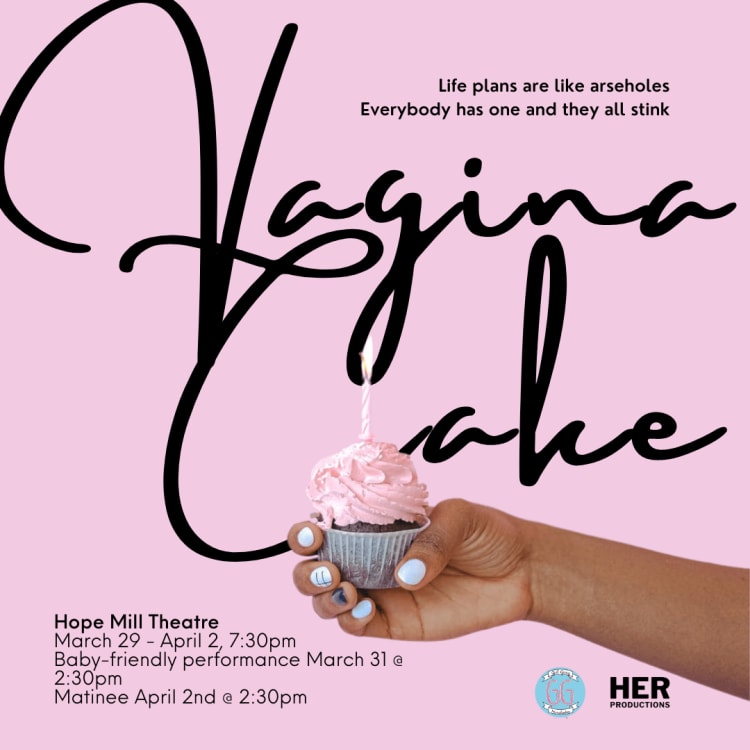 This comedy about five friends from university in the years following graduation began as a 15-minute piece for Unseemly Women in 2019, but writer Laura Harper was persuaded to expand it into a full-length play. This version runs to just over 2 hours including an interval (not 80 minutes with no interval as claimed on the Hope Mill web site).
Over four scenes some unspecified years apart, we see the four young women—who have retained their student nicknames of The Duchess (whom we never see, for a different reason each time), Dipsy (Laura Littlewood), Fraggle (Jade Golding), Mumps (Francesca Kingdon) and Mary, sometimes referred to as 'Virgin Mary' (Victoria Oxley)—grow in very different directions, but most of their conversation is about relationships, marriage and babies.
An incident immediately before first scene, set in the toilets during The Duchess's wedding, sets the characters of all five women. The Duchess is clearly the dominant one that no one wants to upset. Mumps is already married and pregnant and clearly the practical one who sorts out other people's problems—although there is a running gag where the others talk about how terrible she was during her own wedding and pregnancy and how that doesn't fit with her memories at all.
Dipsy is desperate for a relationship as she wants children and, even her twenties, is keeping an eye on her body clock. Fraggle isn't bothered at all about relationships and, now she works in 'London' (the others always say it as though it is in quotes), her friends seem to think she believes she is more sophisticated, like when she talks of having a 'partner'. Mary does want a relationship and children but is more chilled out about it, believing it will happen when it happens, and she is always a few steps behind the others in understanding any situation.
From the wedding, we jump to a girls' night out that never gets past getting ready in Dipsy's flat as she has The Duchess in her bed with tonsillitis. Then it is a baby shower, when the vagina cake of the title makes its appearance, created by Mumps, which has to be disguised before The Duchess, whose pregnancy is being celebrated, sees it. Finally, it's The Duchess's divorce party, with them all dressed in black and the hostess drunk in the toilet, where all of their issues and secrets of the past few years inevitably come to a head.
There is some great comedy in this piece, but it is too long. Some slight timing issues with the comedy are to be expected on opening night and will improve during the run, but some scenes are overcomplicated with pauses and stage business that slow the pace and inevitably affect how the comic lines land. The final scene, when it all becomes serious enough for the friendships to be threatened, didn't quite ring true to me, and when one of the group suddenly adds her previously unsuspected life-changing event, it felt like one trauma too many.
The cast perfectly embody these believable and recognisable characters with great performances, with costume designs by Zoey Barnes that suit them well. Sorcha Corcoran's versatile set design works well enough, but a five-minute scene change in each act is a bit much to sit through. Serafin Dinges's sound design mixes music from the different periods from 2006 onwards with baby noises and other sound effects to good effect, although some of the background sounds are a little too prominent.
The audience on opening night was largely young women, some of whom were treating the event as something between a hen night and a pantomime, perhaps with a bit of Jerry Springer thrown in, and they got some references that went over my head as middle-aged male reviewers are clearly not the target audience. However there was much that I did appreciate and enjoy, but it does feel to me like it would benefit from some tightening up to make the most of the material.
Reviewer: David Chadderton