Value Engineering: Scenes from the Grenfell Inquiry
Ediited by Richard Norton-Taylor
Nick of Time Productions in association with the Playground Theatre
Tabernacle Theatre
–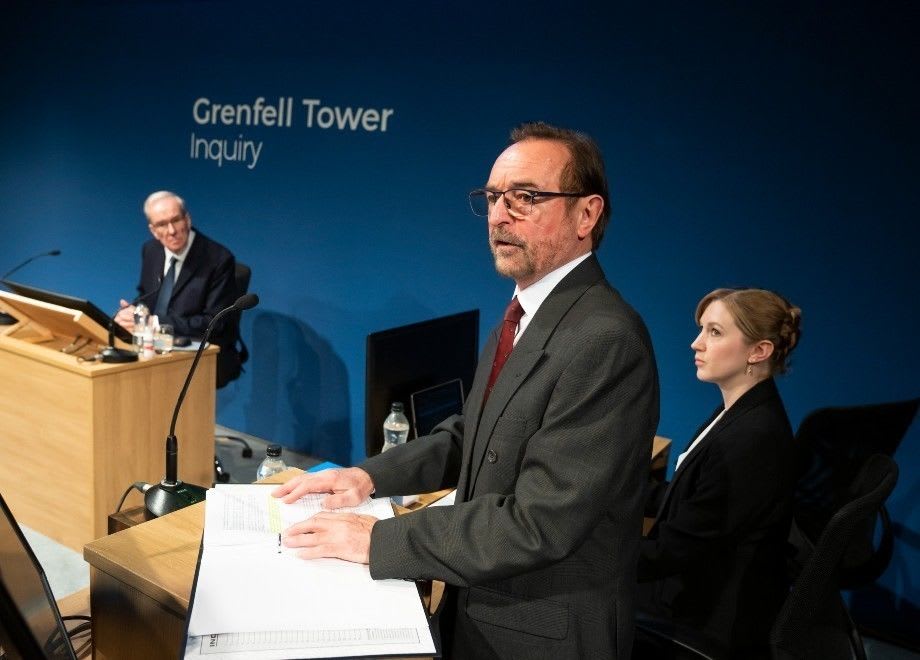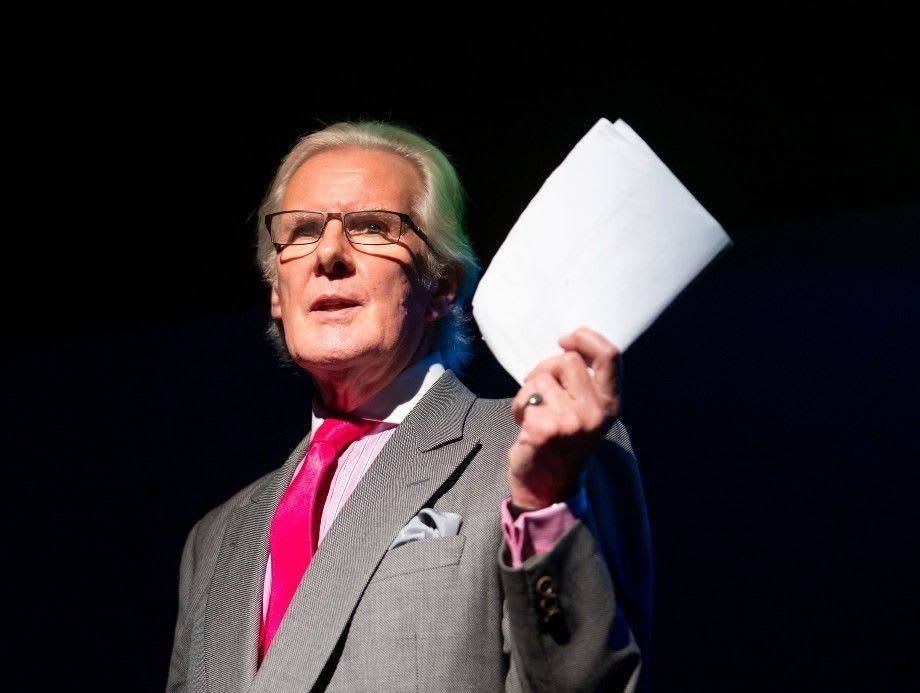 On 14 June 2017, in one of the richest parts of one of the wealthiest cities in the world, the Grenfell tower, refurbished between 2012 and 2016, caught fire killing seventy-two people. The inquiry that followed looked at thousands of documents and questioned numerous witnesses.
Richard Norton Taylor's powerful dramatisation of selected scenes from the inquiry traces the way a whole series of companies and organisations played a part in the creation of a lethal inferno. It also acts as a warning about the deadly consequences of the existing dysfunctional operation of business driven by the profit motive.
Above the stage is a huge screen upon which are projected various documents, videos and diagrams. Below, at a central desk, sits the chair of the hearings, Sir Martin Moore-Bick (Thomas Wheatley).
Among the first witnesses we see are a firefighter and a control room operator who describe their failed attempt to rescue a frightened 13-year-old boy alone in a nineteenth floor flat. Their account reveals faulty equipment, dangerous advice and missed opportunities of rescuing other people.
The play's title of Value Engineering refers to a process of cutting costs. A senior employee of the company with overall responsibility for the construction describes how they were asked by the Tenants Management Organisation (TMO) "to value engineer the cladding". This they did by replacing safe material with highly combustible material at a cost saving of about £306,000 for the TMO and £200,000 for themselves.
Repeatedly, Council to the inquiry Richard Millett QC (Ron Cook) asks witnesses about their knowledge of specific building regulations on fire safety. Mostly, they claim to be only vaguely aware of such things. Since such admissions might have later caused them problems, the Attorney General gave an undertaking that witnesses would not be prosecuted as a result of evidence they gave to the inquiry.
Of course, the possibilities of fire did crop up in meetings and odd e-mails, such as the one from a project manager for Kensington and Chelsea TMO who wrote to the Rydon construction manager, "I am just writing to get clarification on the fire retardance of the new cladding—I had a 'Lakanal' moment." That reference to cladding and the fire it contributed to at Lakanal House in 2009 that killed six people deserved a response, but no reply to the e-mail appears to exist and the project manager "binned" her work "notebooks, diaries and records" about a year after the fire.
Three lawyers for the bereaved families and residents of Grenfell tower make powerful statements during the play, which concludes with the words of Michael Mansfield QC (David Robb) who claims: "what emerged from the Inquiry was an extraordinary catalogue of greed, fraud, cheating, lying incompetence, fatal cost-cutting, casual indifference, unaccountable private companies and public officials, buck-passing, practices described by one company executive as 'completely unethical'. Some were even joked about. ".
This is a necessary and important play that should be seen by everyone.
Reviewer: Keith Mckenna