Vampires Rock
Steve Steinman
Darlington Civic Theatre and touring
(2010)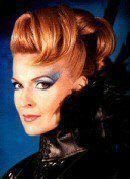 The auditorium of Darlington Civic Theatre was packed to the rafters on Friday evening for the first of two sell-out performances of Steve Steinman's cult classic, Vampires Rock.
Set in New York in the year 2030, the undead are among us and livelier than ever. A young girl named Pandora (Emily Clark) has skipped school to attend an audition to be the resident rock singer at the Live and Let Die Club. There she encounters Baron Von Rockula (Steinman), who instantly falls in love with her and becomes determined that she should become his new bride – shame he didn't bother to consult his current Devil Queen (Toyah Willcox) who is none too impressed with the idea.
Ostensibly, Vampires Rock is The Rocky Horror Show for hot-blooded heterosexual hairy bikers and heavy metal heads. More vamp than camp, more gothy than frothy, the show uses its storyline – which is as translucent as a vampires skin in the midday sun – to string together some of the greatest rock anthems of all time. They're all in there, from 'Killer Queen' to 'Total Eclipse of the Heart', 'The Final Countdown' to 'Bat out of Hell.'
Steinman, Willcox and Clark all delivered stunning vocal performances and backed by a five-piece band, whose acoustics almost lifted the roof right off the grand old theatre, they really whipped the crowd up into a frenzy.
The shortcomings of the storyline are compensated by the energy and enthusiasm that the entire cast put into the show which, ultimately, is what makes Vampires Rock a great night out!
Reviewer: Steve Burbridge