Uncle Vanya
Anton Chekhov, adapted by Bryony Lavery
Birmingham Rep
(2007)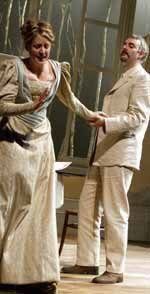 The publicity for the latest production at Birmingham Rep states very clearly that the star is Jill Halfpenny, best known for her role as Kate Mitchell in EastEnders and as winner of the celebrity reality show Strictly Come Dancing.
Those are not her only talents. She's also appeared in Coronation Street and her success on Strictly Come Dancing led to her West End debut as Roxie in the musical Chicago.
The Rep is expecting audiences for Uncle Vanya to come from several different categories: Chekhov fans who've never heard of Jill Halfpenny; people who've seen her on television but have no experience of the play; theatregoers who've knowledge of both; and those who know neither the play nor the actor.
In a way, promoting Jill Halfpenny as the star is almost a slight on the rest of the cast. Uncle Vanya is an ensemble piece and the quality of the acting here is such that one character doesn't shine more than any other.
This production is a new adaptation by Bryony Lavery who did a similar job on Ibsen's A Doll's House at the Rep three years ago. That was also directed by Rachel Kavanaugh, coincidentally now artistic director at the Rep.
Lavery has tried to make Uncle Vanya funny and relevant to a modern audience. The play certainly holds your attention, due in no small part to Lavery's willingness to trim some of the longer speeches which keep only the gist of Chekhov's original. However, don't expect uproarious laughter - Lavery lets the humour escape through the comical situations the characters find themselves in.
Uncle Vanya is the story of how Professor Serebriakov and his beautiful wife Elena have left St Petersburg to settle on the family's remote country estate. There the plain Sonya, the professor's daughter from his first marriage, and her Uncle Vanya have been working tirelessly to keep the estate going.
The couple's arrival upsets everyone's routine. Vanya and the local doctor Astrov are both infatuated by Elena; both Sonya and Elena are attracted to Astrov.
John Ramm gives a totally controlled performance in the title role as he deridingly condemns his life of boredom and poverty. He never goes too far and resists the temptation to turn the role into a constant rant against his circumstances.
Jill Halfpenny gives a fine performance as Sonya whose love for Astrov isn't reciprocated. She immerses herself in her work to compensate for the lack of love she endures from her family as well as the doctor. Miss Halfpenny is excellent in the scene with her stepmother in which she pours out her feelings. She is very comfortable in what can be seen as an unsatisfactory role because Sonya is never allowed to express the self-pity you would expect which would earn her more sympathy.
John Hodgkinson gives a commanding display as the self-assertive Astrov who would prefer to look after the environment rather than his patients. He manages to retain his appeal and charm despite his apathy towards Sonya and his lust for Elena.
There are also admirable performances from Christopher Godwin as a domineering Serebriakov and Flora Montgomery, his elegant and mostly subservient wife Elena.
Kavanaugh directs the production with pace and vitality while Ruari Murchison's design is consistently exhilarating. The opening scene - with the trunks of 60 trees visible in Serebriakov's delightful garden - is especially eye-catching.
This production is Chekhov for the modern age. It's not one for the purists who will probably flinch at Lavery's use of words such as discombobulate. And it's quite a pared-down version. Add the appearance of Jill Halfpenny and you have several reasons why the Russian playwright should now come to the attention of a whole new audience.
"Uncle Vanya" continues until April 14th
Reviewer: Steve Orme