Uncle Vanya
Anton Chekhov
Sturdy Beggars Theatre Company
Camden Peoples' Theatre
(2010)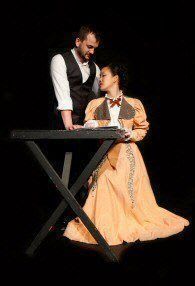 2010 is the 150th anniversary of the birth of Anton Chekhov, the Russian playwright who wanted audiences to 'Have a look at yourselves and see how bad and dreary your lives are!' Some may argue, a century and a half on, that our lives are still bad and dreary and therefore Chekhov's text remains highly relevant to a contemporary audience.
Alexander Andreou is an arrogant, mopey Vanya, still a childish schoolboy at heart who seems to enjoy whipping up an argument just for fun. It is not until the second act that Andreou really comes to the fore in an explosive tirade after hearing Serebryakov's plans for the estate. Like a child in a tantrum he erupts in anger, an anger which could never end. In this sense, Andreou's Vanya is lion-like, basking in the sun when we meet him in Act One, a threat to no-one, until Act Two when someone becomes his prey. Once this Vanya pounces, you know that he won't let up until he kills, but unfortunately for Vanya his aim is rather bad and so his prey, Serebryakov, escapes unhurt, twice.
Andreou is supported by a team of eight actors, predominantly trained at the Poor School. Tessa Gallagher plays a bespectacled, country-accented knitting Nanny, with something of Ma Larkin about her. As Sonya, Katherine French does well to express anguish, but unfortunately comes across geeky and annoying at times, rather than gentle and homely. Astrov is given a touch of the Wild West by Brendan Jones; his hands constantly in his pockets, he staggers across the stage as if straight out of Oklahoma! Of course, there are similarities between Curly and the doctor: both seem irresistible to women.
Chekhov's plays are well noted for their themes of regret and resentment, but these emotions seem somewhat detached from the characters in director Vik Sivalingam's production. Rather than building throughout the scene as a result of an action or event, emotions seem to suddenly take hold of the character out of nowhere only to support the text being uttered at that moment in time. Although Andreou's burst of rage in Act Two is extremely dramatic, it could have been even greater were it to have built from somewhere.
The main problem with some of the acting is that it appears the cast have forgotten that they are playing in a small venue, where less is more. If the play were to transfer to a larger theatre, their acting style would be well suited but in the intimate surroundings of the Camden Peoples' Theatre it comes across over the top and eccentric. Margaret Robertson as Maria has it just right, and although her part is one of the smallest, she wonderfully demonstrates that a role is what you make of it.
A suggestive forest painted on the back wall of the black box theatre is just one aspect of the clever set design courtesy of Charlotte Randell. Hidden hatches in the wall turn into cupboards, sideboards and bookcases and help evoke setting, complemented by well chosen properties. Scene changes are well choreographed and executed and keep the play's pace at a steady speed.
Chekhov's works always ponder the future. Characters wonder what will happen in the next hundred or two hundred years and whether they'll be remembered. After one hundred and eleven years since Vanya's Moscow premiere, one thing is sure: Chekhov's play is still as relevant as ever and will continue to delight audience for the next hundred years and more.
Playing until 13th June 2010
Reviewer: Simon Sladen