Taiwan Season: Varhung – Heart to Heart

Tjimur Dance Theatre
Dance Base
–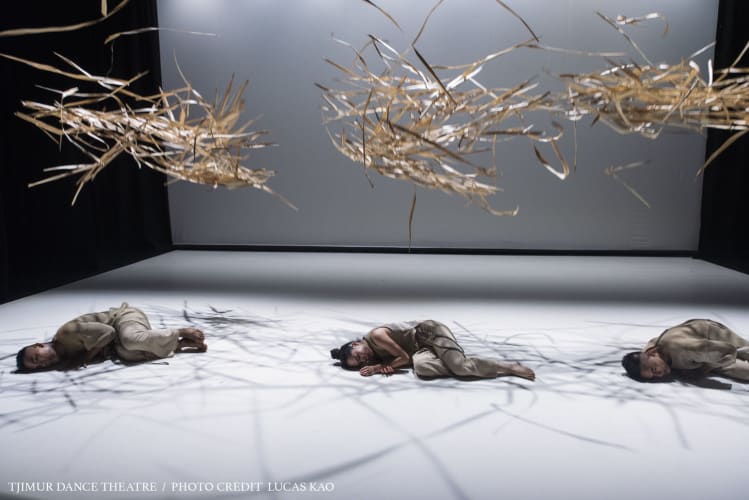 Varhung – Heart to Heart is an absolute tour de force and an intensely pleasureable experience.
The Tjimur Dance Theatre is the first Taiwanese contemporary dance company to broach themes relevant to the Paiwan culture, allowing music and the physical sign systems of traditional dances to inspire them.
In the Paiwanese language, 'varhung' means the 'heart' but also the complexity of a rich emotional life, the full range of emotions and, because Paiwanese does not have it's own alphabet or ideograms, these are expressed through the performing arts. Body language is a crucial means for expression and in this respect Varhung is dance theatre. The physicality is absolutely stunning.
A unobtrusive soundscape builds slowly into a musical score that heightens emotional intensity; the lighting evokes mood and is a strong but simple aesthetic component. The dancers gift us a top-notch ensemble performance, beautifully paced, in which they blend together so seamlessly at times they become a single organism before separating again into individuals submerged in solitude.
The voice work is excellent too, resonant with the movement, lighting and music, and it seems remarkable that the dancers have enough breath in the midst of such physical exertion to give long, deep vocal expression to feelings, or to sing harmoniously together, but it is through song that they reach the pinnacle of emotion.
The performers give themselves over to listening and unburdening with such authenticity every second seems so fresh, so much on impulse, the physical feat alone is admirable.
This generous and deeply moving piece of work is one of my most memorable experiences on this year's Fringe. Bravo!
Reviewer: Jackie Fletcher