Vassa Zheleznova
Maxim Gorky (in a new version by Emily Juniper)
The Faction
Southwark Playhouse (The Little)
–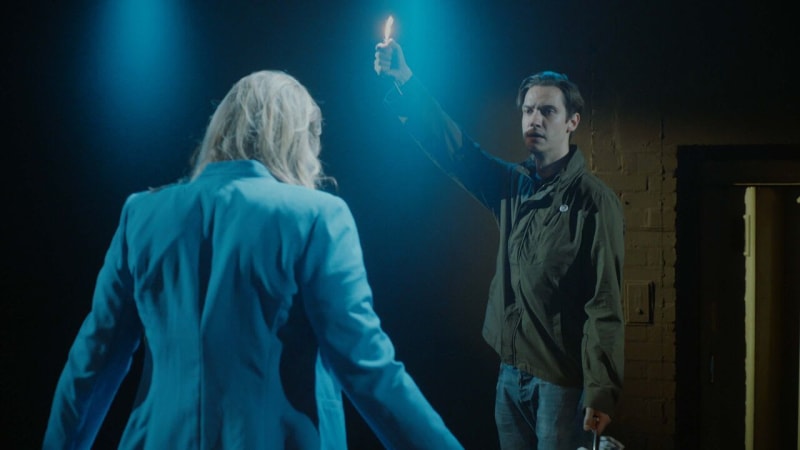 The Faction is an ensemble company that since 2008 has presented a striking series of productions bringing a visceral very physical approach to classic revivals from Shakespeare to Lorca, a Patricia Highsmith adaptation and especially an undertaking to present the complete plays of Schiller. It also has a policy of finding more roles for women in classic revivals, often by changing a character's gender or gender-blind casting.
These elements are all present in its latest production of Maxim Gorky's Vassa Zheleznova. The play, a savage attack on bourgeois greed and ambition, was first staged in 1911 but Gorky rewrote it in 1935 making it more harshly political. Both versions present a domineering businesswoman and her family destroyed by her own values.
This isn't the first British production; among others, the Almeida presented the first version, in which she has a wood and peat business, in the West End with Sheila Hancock. Pasolini made a film of the second, in which it's a shipping company she runs.
I presume Emily Juniper's reworking is based on the later text for she has set it at the time of the Liverpool dockers' strike in the 1990s, finding contemporary replacements for the original characters including a rock musician and an ecological protester.
Vassa Zheleznova comes on before the play proper begins and sits in her executive's chair surveying the audience. When the lights go down, she is surrounded by ranks of actors, soon all shouting in a physical sequence typical of The Faction, reacting en masse as large things successively sweep by. What is going on? Are they being dive-bombed? The show's advertising gives a clue when it mentions the Liverpool strike. These are probably a picket line reacting to busloads of blacklegs, but that is pure guesswork.
Rachel Valentine Smith's fast-paced production is not easy to follow, incomprehensible shouting and its opposite blurred inaudibility and sometimes impenetrable scouse increase the confusion. I missed quite a lot. Who was involved in a video exchange? What did a rearrangement of rostrums signify? Was the upturned rostrum representing a jacuzzi? A boat?
Vassa herself explains that she began life a poor girl, a sexually abused child who married a man whose family business was failing. She saved it and built it. Now here business is threatened. There are no orders. The press has got hold of embarrassing news about the sexual activities of her husband (Luke Shaw) with under-age children. She can't buy them off, it's too late. Arranging her husband's "suicide" is her solution. There's a guy (Christopher Hughes) who seems to be her spy planted among the strikers and the person who does all her fixing, is he involved in that?
Her ex-rocker brother (Andy McLeod), drunkenly assaulting Vassa's office junior (Amelia Donkor) and dreaming of making a comeback, is creating problems and, though her PA Anna (Kate Sawyer) seems loyal, the family for whom she has built up the business is rebelling against her, including elder daughter (Nicole Hartley) who seems to be part of the company. Her son is an eco-warrior in prison and his fellow-activist wife (another strong performance from Nicole Hartley) is now trying to get back the son whom grandma Vassa has brought up. Only a younger daughter, whose attentions Vassa finds a nuisance, still seems to look up to her.
Siân Polhill-Thomas give Vassa high energy and high decibels but it seems even this powerful manipulator can crumble. I won't give the game away about what happens because I'm not sure myself, such was the confusion. Trying to condense Gorky's play into just 90 minutes probably doesn't help and this production doesn't offer any clear political message as one might expect from something re-tailored to suit Stalin.
Is it a picture of capitalism not working because you've brought up others to be just as ruthless or are the rebels some new hope? The humour that lightened Gorky's original version has also gone with its clarity.
Reviewer: Howard Loxton