The Vegemite Tales
Melanie Tait
Itchy Feet Theatre
The Venue, Leicester Square
(2006)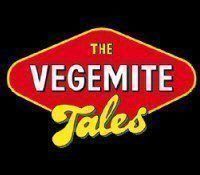 The title says it all. This play owes its success entirely to the nostalgia of 20/30-something Australians exiled in London, and very little, if anything, to artistic merit.
The action takes place in an Aussie-populated flat somewhere in London. Dan (Blair McDonough of Neighbours fame) and Eddie (Tom Sangster) are your archetypal laid-back 20-something Australian males, constantly on the beers and the pull. Their housemate Sam (Andrew Robb), late 30s at a push, has been living the gap-year lifestyle for far too long and needs to get a grip. Gio (Andy Leonard), the token European, splits his time between girlfriend and boyfriend and struts through the flat whenever Dan, Eddie and Sam run out of Aussie catchphrases and need a new butt (no pun intended) for their jokes.
The girls are slightly more interesting, if only because they seem to be looking for more than their next can of Fosters - uptight, confused Maddie (Sarah McGlade) with her inexplicable crush on the vacuous Dan; self-sufficient Gemma (Jessica Gerger), who must decide whether the end of her relationship and subsequent abortion (the only moment in the play when anything approaching a meaningful event interrupts the teenage tedium) mean it's time to go home; and compulsive cleaner Jane (Rebecca Gethings, who also plays Portia), who talks of Zen and dreams of fame on the West End stage.
All of the characters, Australian, European and British alike, are stereotypes of the laziest kind. As if a bisexual Italian waiter weren't enough, Portia, the only Brit in the play, morphs from stripper to Lady Thatcher (an impressive performance from Rebecca Gethings which almost - almost! -makes you forgive Tait for writing the scene). The dialogue, to be fair, is convincingly naturalistic, but you will hear more interesting and ambitious interaction between strangers at a bus stop. Still, when you're playing to an audience which laughs uproariously at the phrase "up your bum", you can get away with most things.
To be fair to cast and director, their pacy production renders the evening as painless as possible, but I doubt any of them feel it is their finest work. The girls and Sangster in particular look as though they could do this in their sleep. The cabaret/TV-studio-style of The Venue and Ben Stones' adaptable, naturalistic set do their best to suggest a live soap-recording, cleverly undercutting any residual pretension that this is meant to be theatre.
Still, the (mostly Aussie, mostly inebriated) audience had fun, and I've had worse evenings at more pretentious plays. If you see it as a night down the pub and don't expect much more than the level of chat you'd get down at Walkabout or in an episode of Neighbours, you'll enjoy it, but it will be no loss to theatre if Melanie Tait sticks to soap-writing in the future.
Until 23 September 2006
Reviewer: Louise Hill