Veil
Shanaz Gulzar & Kully Thiarai; text by Kay Adshead
Mama Quilla Productions
Holbeck Underground Ballroom (HUB), Leeds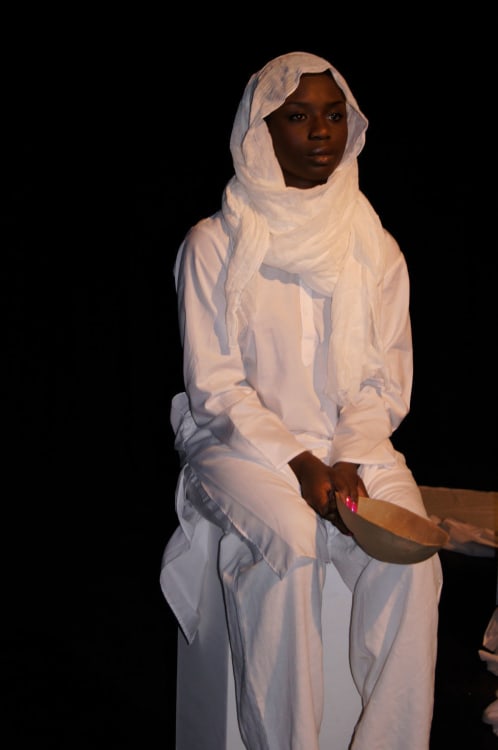 Veil, from Kay Adshead's Mama Quilla Productions, is both more and less than a play. Hosted, when I experienced it, at Slung Low's Leeds-based storage facility hang-out, the HUB, it was informal, welcoming, and odd.
For a start, the sound installation into which the performance element is placed was so informally presented you'd be forgiven for thinking that you were intruding on some sort of tech rehearsal. Ushered onto the stage itself, and crowded slightly coyly next to others beneath one of three cloche-like listening bells, you were regaled with monologues played on a loop. These were anonymously recounted stories from the points of view of several individuals living in Britain for whom the notion of wearing the veil had some significance.
It's hard to put it more precisely than that. The veil has clear religious overtones for many, and one woman's monologue told of her visit to the bank, in hijab, the day after the World Trade Center attacks. Hers was a compelling and simple story, a startling reminder of the depth and suddenness of the absurd, disjointed intolerances which were wounded into sharp focus after 9/11.
Yet most of the monologues that I heard touched only on the religious overtones of the veil in light, skipping tones, or seemingly not at all. Another young woman spoke about her passion and skill at video games, a story far from the confused, disbelieving hurt of the previous tale. Crucially, though, all these stories are true; all are the speakers' own words.
At certain points during the day, the installation-goers are invited to attend a performance of Kay Adshead's own poem, Veil, divided between four female voices and penned 'in response to' these tales of Muslim women.
This approach leaves Adshead a lot of leeway, and (perhaps fitting for the form), it seems as though there are a number of more personal concerns entering into the writing here—at least when compared with the stories I caught in the sound installation element.
So rather than tales clearly representing Muslim women in British (metropolitan) communities, the piece presents four takes on more metaphorical veils and masks worn by women in a range of global cultures.
Performed adeptly by Ann Akin, Eugenia Low, Llila Vis and Rhiannon James, the writing conjures lively, lithe imagery of both post- and pre-industrial cultures. Descriptions of the stock market crumbling—a set of numbers on a computer screen 'fractures, melts, fractals'—vie with the natural alarm clock of the lark 'crashing pots and pans'.
Akin is the cheekiest performer, giggling and grinning her way winningly through many moments of her section of the piece. Llila Vis is also memorable as a doctor called upon to make quick, tough choices in a sketched-out (but never, as far as I understood, specified) poverty-stricken hospital somewhere in the world.
In this way, impressionistic moments from around the war-torn, collapsing contemporary world are conjured in this slight, lightly-staged performance poem. How these tie in with the tales collected by director Kully Thiarai and digital artist Shanaz Gulzar—how the poem gives voice to the women heard around it—is not particularly clear. But it nonetheless adds up to a provocative meditation on a line quoted by Mama Quilla: 'Women are not free anywhere in this world until all women in the world are free'.
Reviewer: Mark Smith