Velvet
Tom Ratcliffe
Above the Stag with Work Theatre
Above the Stag Theatre (Studio)
–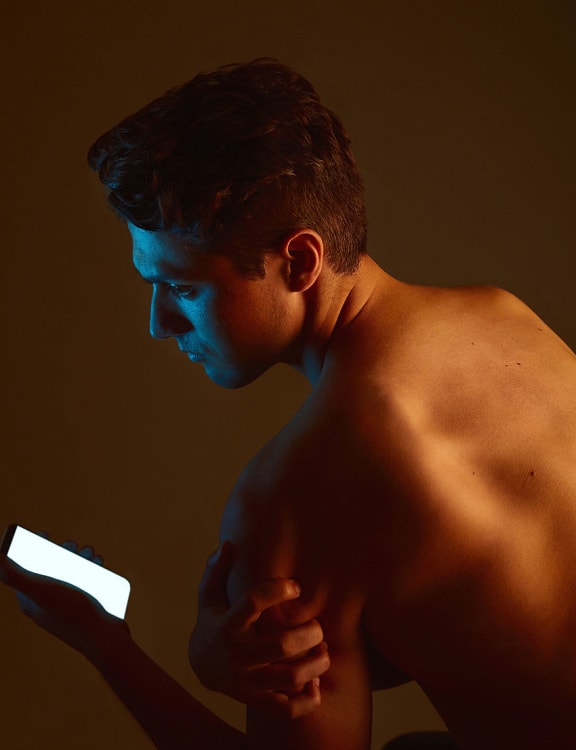 Tom Ratcliffe is both actor and performer of this actor's view of the modern version of the casting couch that draws partly on his own experience. It is an hour-long solo but not a monologue for Ratcliffe uses a range of voices (one of them so different it must surely have been helped by Callum Wiles's sound design) to play lover, agent, friends and casting directors as well as his alter-ego self.
Ratcliffe frames the telling with an audition for a commercial, with repeated requests for different renderings of its key phrase. He seems to be the client's first choice but there's a cruel twist to come and before we reach it we hear Tom's story.
This Tom is a young gay actor, not very successful. He's living (rent-free) with Matthew, his banker lover, and working as a waiter to contribute to the bills. Matthew clearly hopes that he'll give up his acting aspirations but Tom thinks he's in luck: a friend helps get a casting director to see him in a fringe show. The guy's enthusiastic but that invitation to a drink, did he misread it?
Is it the same guy who finds him on a dating app? Their text conversations, displayed enlarged behind the actor, and voiced too, present a proposition. What should Tom do? There's a major Hollywood role on offer.
Luke W Robson's setting presents a luxurious sofa like a promise of fame and fortune on a black and white tiled chessboard floor. Tom is the pawn here—is he the porn too? And how could he be so naïve? But there is a reality here that is a reminder that #MeToo situations apply to all genders and actors are especially vulnerable.
This gay perspective on a sleazy situation is interspersed with domestic moments and a return to where Tom came from, facing those who are jealous that you broke away while he pretends imminent success. It's a picture that rings true for those who know the business.
Andrew Twyman directs and Ratcliffe gives a focused and positive performance. Seen a year go on the Edinburgh Fringe, this won an award; touring since has seen some finer tuning and comes across as in the moment with a refreshing honesty.
Reviewer: Howard Loxton