The Venetian Twins
Carlo Goldoni, translated by Ranjit Bolt
Octagon Theatre, Bolton
(2008)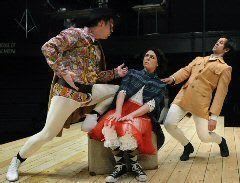 Paul Hunter once more guests as director at the Octagon with an Italian farce, this time with a very free adaptation of Carlo Goldoni's eighteenth century comedy The Venetian Twins.
Hunter and his designer and associate director Michael Vale utilise their experience in physical comedy to the full for this production, right from the first image as the audience walks in of a wooden platform surrounded by miniature trampolines with performers walking around it in little more than long underwear, which could be straight out of a Kneehigh production (a company for which they have both worked).
The story is based on the ancient Roman comedy The Menaechmi by Plautus, which has been the basis of many similar 'twins' comedies including Shakespeare's The Comedy of Errors. It features two estranged identical twins — refined, well-spoken Tonini and rich-but-stupid Zanetto — who both happen to find themselves in Venice at the same time but, despite meeting and confusing each others' friends, servants and fiancées, never run into one another. These are not the only coincidences we are asked to go along with, however, especially in an ending that rivals The Importance of Being Earnest for deliberately unlikely connections.
Ranjit Bolt's adaptation (this is certainly not just a straight translation), while still notionally set in eighteenth century Italy, has a very modern tone to it and uses dialect that is rather more Lancashire than Latin, but it works very well, bringing a lot of humour out of the complicated situations without slowing the pace with lots of explanation.
The production is riotous, fast-paced and noisy with a superb cast totally committed to the broad, physical style of the piece with their broad, almost grotesque characterisations. Nick Haverson plays both twins so distinctly differently, without a change in costume, that he starts to get laughs of recognition from the audience as they work out who he is when he enters before he even speaks. Recent drama school graduate Dudley Rees is also superb as Zanetto's put-upon servant Arlecchino, producing some of the funniest moments of the play when servant and master stand on stage yelling at one another.
There are plenty of other very strong performances, including Joanna Holden as cheeky servant Columbina, Rachel Donovan as Zanetto's confused fiancée Rosaura, Peter Peverley as both Brighella and Florindo, Caitlin Mottram as Tonino's fiesty fiancée Beatrice and James Traherne as scheming clergyman Pancrazio.
Sound effects and music are provided live by members of the cast on the upstage platform, and can consist of anything from background music to silly slapstick noises to whole mimed swordless sword fights, which are very impressive. The trampolines are a quirky if perhaps underdeveloped method of entering and leaving the scenes. The design and direction makes full use of the space in the theatre and, at one point, even the street outside (fortunately the rain held off for this performance).
The comedy is broad, fast-paced, physical and slapstick, so those people who believe themselves to be too sophisticated to enjoy such things should probably stay away. For the rest of us, this is exhausting but hilarious and deserving of a much bigger audience that it had on this opening press night.
Running until 15th November
Reviewer: David Chadderton