Venus in Fur
David Ives
Alley Theatre, Houston TX
Neuhaus Stage, Alley Theatre, Houston TX
–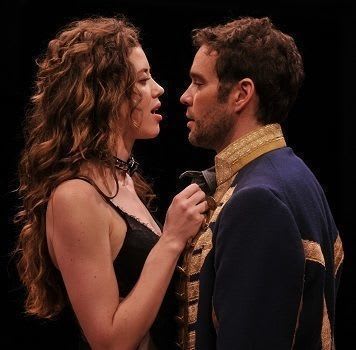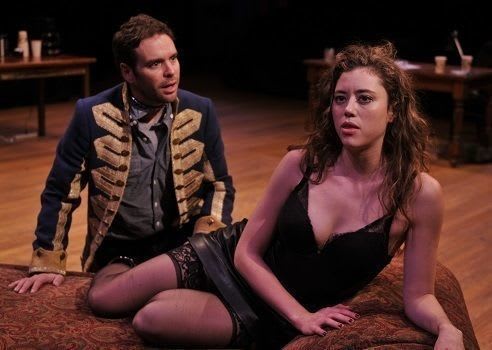 Venus In Fur is David Ive's sexy, funny, and disturbing two-character play now in production at the Alley Theatre in Houston, Texas and a rewrite of Leopold von Sacher-Masoch's Venus in Pelz, an 1870 novel notorious enough to immortalize its author as the "M" of the term Sado-Masochism (aka S&M).
The production is one of the best I've seen at the Alley, one of the United State's large regional theatres like the Goodman in Chicago and the Mark Taper in Los Angeles.
Placed in the intimate Neuhaus Stage, we meet Thomas (played by Michael Bakkensen), a playwright who is forced to direct his own adaptation of Venus in Pelz since "no one else" understands his work.
The play begins after the kind of day all producers have had: no one showing up who is even close to being right for the part. He is searching for Vanda, a countess who leads—or is forced to lead—George, the protagonist of both Sacher-Masoch's novel and this imagined adaptation, into a life of sexual, moral, and economic degradation.
As Thomas is gathering his actors' résumés and headshots together, Vanda blows into the theatre's loft space (brilliantly recreated on the Neuhaus stage by set designer Takeshi Kata) with a large bag that turns out to contain the entire script of Thomas's unpublished adaptation, and costumes suitable for the production of his play she "found in a thrift store".
Vanda, as played by Nicole Rodenburg, is wonderful to watch as she is caught in lie after lie, demonstrates how needy only an actor can be, and, worst of all, refuses to take direction. She insists upon reading the play with Thomas. A good thing, too, as it is clear to both Thomas and the audience in seconds that Vanda is the Venus he's been looking for and more.
The play switches back and forth (possibly a few too many times) between the action in the theatre's loft space and the novel's setting, the late nineteenth Austro-Hungarian Empire. The sexual tension between Vanda and Thomas is apparent from their first reading and the play becomes a teasing, dangerous exploration of the relationship of both the 19th century Vanda and her lover George and the 20th century Vanda (both characters are named Vanda) and Thomas.
Both actors do a great job with switching back and forth between the Vanda and the George of the novel / adaptation and the contemporary material set in the present. Rodenburg's work is especially noteworthy. As she switches between the two Vandas, the change is immediate and even grating—it's practically Brecht's distancing effect at work. Just as we get into the novel's world, Vanda and Rosenburg pull us out.
Bakkenstein's work is also fine: he leads us further and further into a fascination with both Vandas (he falls in love with Vanda both as a realisation of his character from the adaptation but also with the Vanda of the present time even as she begins to take over more and more of his emotional life.
He doesn't appear to have the emotional range that Vanda does but then Bakkenstein is faced with the difficult task of playing a non-actor forced into playing a theatrical role. As Thomas, however, his passioned defense of his play allowed him to soar in ways that could have been quite stereotypical but were not. His work allows us to move to the final moments on the play when both Thomas and the audience discover Vanda's real identity—and his fate.
In short, should you find yourself in Houston, get tickets to this extraordinary play, one that is finding itself in professional productions at many theatres. Venus in Fur is an important addition to the playwriting repertory, and this production, that of the Alley Theatre in Houston, particularly fine.
Reviewer: Keith Dorwick