Verdi: Messa da Requiem
Giuseppe Verdi
BR Klassik
Released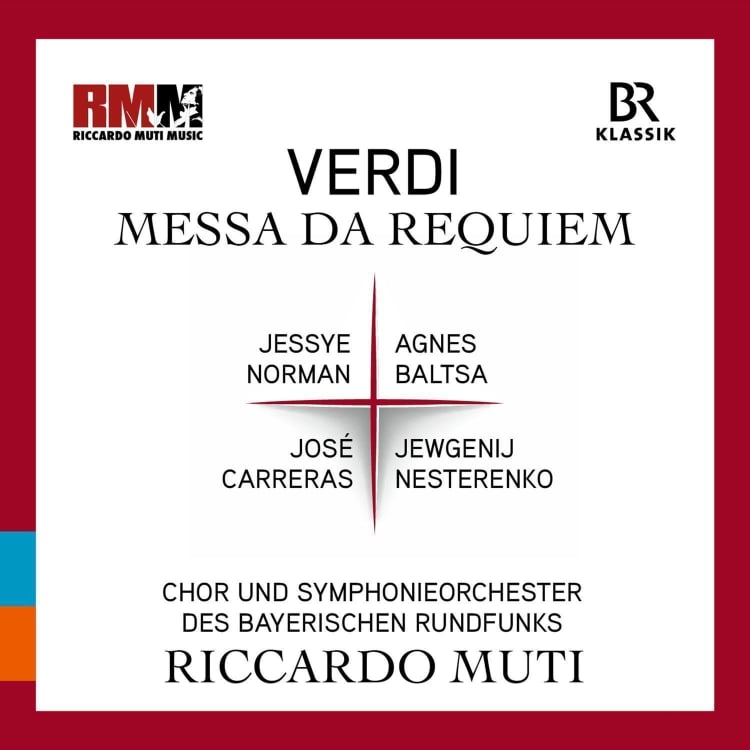 The Munich performances of Verdi's Messa da Requiem in October 1981 with Jessye Norman, Agnes Baltsa, José Carreras and Yevgeny Nesterenko, the Bavarian Radio Chorus and Symphony Orchestra conducted by Riccardo Muti, were concert events that have hardly been equalled since, let alone surpassed—so powerful were the chorus and orchestra, so strictly did the maestro keep his eye on the interpretation, and so superb were the renowned soloists—singers of international renown who gave their all to achieve the best possible result.
This edition, released to mark the conductor's 80th birthday, presents this pinnacle in the performance history of Verdi's Messa da Requiem on CD.
Muti made at least four official recordings of the Verdi Requiem between 1987 and 2011 but this 1981 version presents us with the 40-year-old Muti, even then regarded as a self-confident representative of the Italian classical tradition. He knew full well that only that experienced opera voices could successfully transform the wide-ranging humanity and dramatic emotions of Verdi's Requiem into sound.
Jessye Norman's operatic experience enables her to deliver emotionally glowing outbursts quite effortlessly. Many mezzos would have paled alongside the heroic soprano but not Agnes Baltsa whose fierce concentration and strictly focussed voice present a captivating contrast. José Carreras, who stepped in a short notice, brings a Mediterranean fervour. Yevgeny Nesterenko, one of the greatest basses of that time, completes the stylistically divergent quartet which Muti moulds into precise harmony, particularly in the a cappella passages.
The audience was spellbound and totally captivated, and there was glowing praise from the critics: the powerful work, they said, had hardly ever been heard like this on this side of the Alps. Riccardo Muti had demonstrated how Verdi's Requiem should sound; this performance of Verdi's requiem mass was authentic, frightening, tender and terrifying, providing a timid yet hopeful glimpse of transcendence. All in all, a truly resounding success.
Reviewer: Paul Foss