Verdict
Agatha Christie
The Agatha Christie Theatre Company
Grand Theatre, Wolverhampton, and touring
(2011)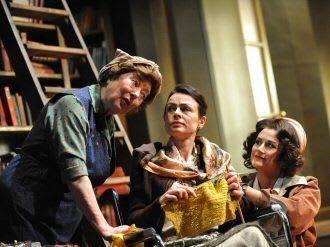 Fifty-three years ago Agatha Christie sat in the Wolverhampton Grand Theatre and watched previews of her latest play Verdict before it transferred to the West End. This week Verdict returns to the Wolverhampton Grand as part of The Agatha Christie Theatre Company's annual tour.
By the time Christie visited Wolverhampton in 1958 her most famous play The Mousetrap had already been running in London for six years. Christie was already a wildly popular writer, but the success of The Mousetrap may have surprised her as she originally estimated it would run for only eight months. It has now been running continuously in the West End for fifty-nine years, making it the longest running play in the world. Christie is also the bestselling author of all time, having sold over four billion copies of her books worldwide. With such popularity it is no surprise that her plays continue to be widely performed with Bill Kenwright's Agatha Christie Theatre Company taking a Christie play on a major national tour each year.
Verdict is rather unique for an Agatha Christie play. For a start, unlike most of her plays, it was not based on an existing novel or story. Secondly Verdict is more a relationship drama than a "whodunit". The murder takes place on stage and the plot instead focuses on the consequences of Professor Karl Hendryk's (Robert Duncan) actions, or, in this case, inaction. The play is set entirely in the book-filled study of Karl's faded Bloomsbury residence. Karl lives with his wife Anya (Cassie Raine), who has a debilitating illness and is cared for by Karl's cousin Lisa Koletzky (Dawn Steele).
The plot of Verdict is disappointingly predictable so those expecting a signature Christie plot twist will be sadly disappointed. The murder is finally committed straight before the interval but from the very beginning of Act Two it becomes obvious that Karl's wish to protect the perpetrator (who confesses to him) will result in an innocent person being wrongly accused.
In Verdict Christie relies heavily on stereotyped characters and melodrama that at times feels a bit dated. Consequently some of the actors struggled to create well formed and believable characterisations. Elizabeth Power is hilarious as the nosy housekeeper Mrs Roper. Likewise Steele manages to bring a huge amount of credibility to her portrayal of the stoic and long suffering Lisa.
It is likely that after the success of The Mousetrap and Witness for the Prosecution many people watching those previews at the Grand in 1958 would have been expecting a masterpiece. This production reminds us why it is The Mousetrap that is still playing the West End all these years later.
Until 26th of February in Wolverhampton. Touring until 17th of September
Steve Orme reviewed this production at Derby Theatre
Reviewer: Iain James Finlayson