Women on the Verge of HRT
Marie Jones
Derby Theatre
(2010)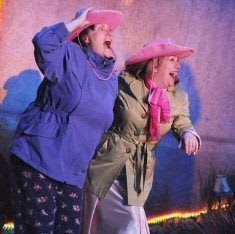 Marie Jones's comedy about two women of a certain age approaching a challenging time in their lives seems on the face of it a play which will appeal to only the fairer sex. But the analysis of their relationships and interaction with the men in their lives has an attraction for both genders and people of any age. Yet the end of director Tessa Walker's new presentation at Derby Theatre left me with a partial feeling of indifference - because I felt little compassion for the two protagonists.
Women on the Verge of HRT features Vera and Anna, both on the wrong side of 40, who've suffered problems with the men in their lives for different reasons.
Alcohol-loving Vera is always looking for excitement and is prepared to accept one-night stands to get back at her ex who's traded her in for a younger woman - 25 years younger in fact. She's afraid about spending the rest of her life alone - she's not yet ready for the "sexual scrapheap".
Anna is calmer and resigned to her fate - she knows her husband couldn't manage on his own so she stays in a loveless marriage because it means other people will think she's happy.
Vera and Anna's fondness for the Irish singer Daniel O'Donnell leads to their leaving their Belfast homes to spend the night in a cheap-looking hotel in Donegal.
There doesn't seem to be much passion in their lives - and there doesn't seem to be enough affection on stage for the heartthrob crooner.
Gruff-voiced Amanda Hurwitz plays the loud-mouthed, foul-mouthed Vera who continually lets rip about her errant husband. She throws herself into the role and it's not difficult to understand why her man has wandered elsewhere.
Caitriona Hinds is more philosophical as Anna and tries to rein in her friend - but the two of them are so different it's difficult to comprehend that they're keen on spending time together.
Iarla McGowan is the only man in the piece and in the first half is the waiter Fergal who's supposed to look like Daniel O'Donnell, making him a possible love interest for both women.
There are a number of laugh-aloud moments before the break yet the characters aren't totally believable; it's debatable whether this is down to Jones's writing or Walker's direction.
After the interval the production goes off at a tangent; it's almost a separate play as the action moves outside to a surreal setting which looks like a seashore yet features a huge window and doors and an un-made bed. This is the Land of Magic and Wonder with a wailing banshee which conjures up a whole range of characters.
McGowan then comes into his own: he steals the show as he takes on several roles, making all of them distinctive and individual. In particular he's excellent playing a couple of women, teetering gracefully on high heels and displaying feminine mannerisms in abundance.
Two scenes are particularly poignant, both involving McGowan: first Vera and her ex Dezi have a no-holds-barred argument, illustrating that their relationship had no chance of surviving; then Anna just wants to be loved by her husband Marty but he's more concerned with fooling around and poking fun at Daniel O'Donnell.
Those scenes, though, are oases in a desert of confusion and chaos in the second half which meant I had little sympathy for the women's plight. But from the reaction of some of the women in the audience, I was very much in the minority.
"Women on the Verge of HRT" continues until March 27th
Reviewer: Steve Orme