Vice Versa
Phil Porter
Royal Shakespeare Company
Swan, Stratford-upon-Avon
–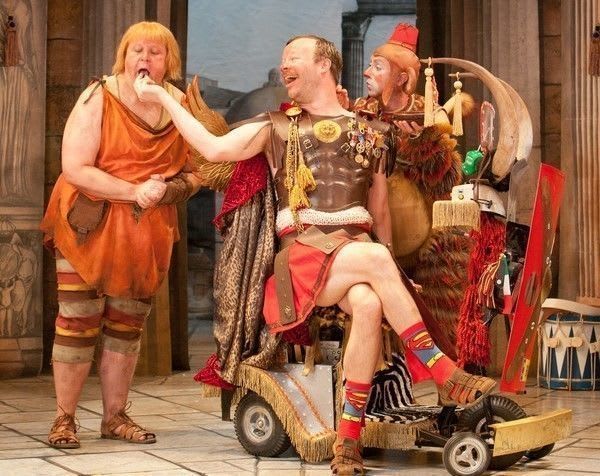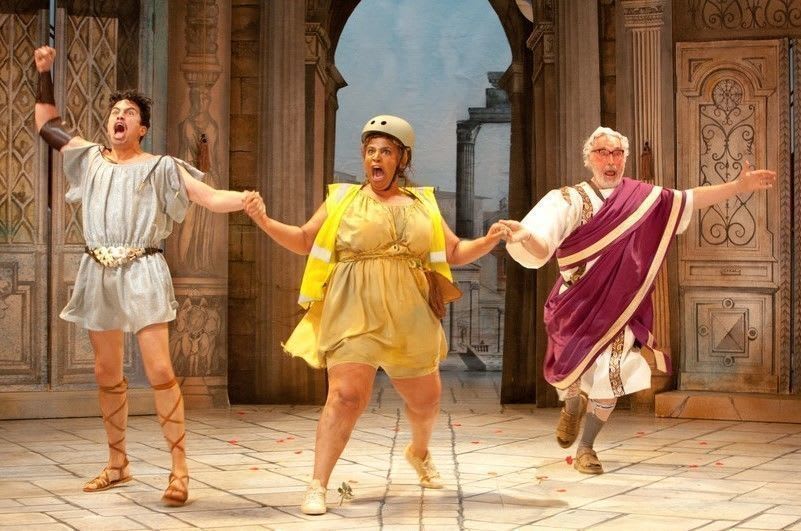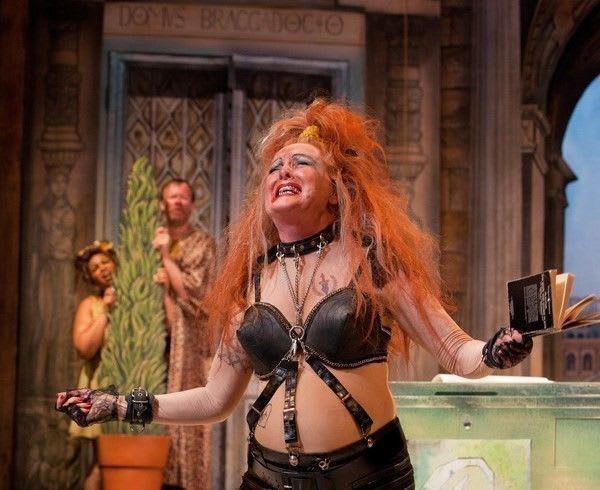 There's a Roman season underway at the RSC, but it's as far from that to Phil Porter's new Roman comedy as it is from Julius Caesar to Up Pompeii.
Vice Versa, or The decline & fall of General Braggadocio at the hands of his canny servant Dexter & Terence the monkey, is a lewd pantomime farce that wears its madcap smile heavily. It may be inspired by the plays of Plautus, with comic names like Omnivorous (greedy servant), Philoproximus (neighbour) and Voluptua (you know), but in a senseless, dashing-about first half, those Classic stand-by authors Tedius and Euphemismius came irredeemably to mind.
Matters improved markedly after the interval, as the company combined in a witty skit about Rome, where "you've not been blessed, till you've been pressed, by some pest obsessed with your chest," followed by a sketchy worthy of the late Ronnie Barker.
In a punning tour-de-force, having absolutely no connection with the main plot, and which Porter has presumably been keeping in the bottom drawer awaiting a suitable opportunity, servant Dexter reels off a list of groceries, revealing such "melon cauli" that a "mangoes bananas." It was played with aplomb (should that be a plum?) by Sophia Nomvete.
But it's not only the delivery from 'Ocadus' that's a mixed bag. There are apparently a record 244 props used in Janice Honeyman's production—259 if one includes 15 cardboard characters. The succession of silly devices and routines can become tiresome, but there are good lines thrown like sweets to the audience. Ellie Beaven's Voluptua spouts a line of phoney Greek, with such well-known local phrases as "austerity" and "Easyjet" and when Dexter's hangers-on adopt a sudden, ludicrous pose as pirates, she points dismissively at them with the comment, "eight weeks rehearsal." How the luvvies laughed.
Felix Hayes is braggadociossimo as the pompous, vain, stupid, clownish general, Geoffrey Lumb is suitably thick as the nice-but-dim lover Valentin and Bryon Mondahl and Steven Kynman perform the requisite fall-about drunken routine with the conviction of the truly drunken. Jon Trenchard monkeys about.
Apart from the canny Dexter, Nicholas Day as Philoproximus and Kim Hartman as Climax (you know) come closest to any pretence at personalities behind the props.
Some may roar at this Carry-on zanery, as did the friendly press-night audience. But the first step in comedy, says Honeyman in the programme, is to find "real, indentifiable heart." Call me a curmudgeon, but I missed that one.
Reviewer: Colin Davison