Vicious Dogs on Premises
Co-choreographed by Heather Christian, Sean Donovan, Mike Mikos, Laura Berlin Stiner
Scenes by Saviana Stanescu
Witness Relocation, through the Ontological-Hysteric Incubator St Mark's Church, New York City
(2008)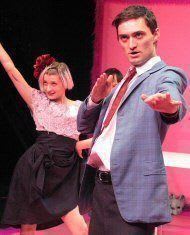 Our former Edinburgh reviewer, Rachel Lynn Brody, has moved back to the United States and is now giving us the occasional taste of US theatre.
Vicious Dogs on Premises is a fast-paced presentation of a number of scenes - some related, some not - presented by four performers. It is an enjoyable evening, though by the time a few days have passed it's difficult to name particularly arresting moments.
The performers are delightfully physical, alternately flailing around and worikng out scenes which appear to be inspired by basic theatre games. They are as fun to watch as they can be to participate in, which is no mean feat.
From their biographies, the company seems to have strong ties with NYU's Tisch School; their work is of high calibre and one feels this is a show which would do well in multi-disciplinary theatre festivals like the Edinburgh Fringe.
Reviewer: Rachel Lynn Brody