A View From the Bridge
Arthur Miller
Octagon Theatre, Bolton
(2006)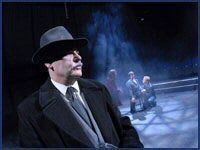 The Octagon opens 2006 and its short Miller at the Octagon season with A View From The Bridge, directed by artistic director Mark Babych. This excellent production shows the Octagon back on top form.
Miller's play tells the story of American docks worker Eddie Carbone, who lives with his wife Beatrice and his sister's orphaned niece Catherine whom he has brought up as his own daughter. They put up two of Beatrice's cousins from Italy, Marco and Rodolpho, illegal immigrants who have come to America to find work. However while Marco is a family man working to send money home to his wife and sick children, his brother seems more interested in spending his money on clothes and having a good time, and has designs on Catherine that Eddie does not like at all. Eddie's feelings for Catherine, which seem to be more than just those of a surrogate father, drive him to extreme actions against Rodolpho that turn Eddie into the sort of person he would previously have despised.
Director Mark Babych has assembled an excellent cast for this production. Damian Myerscough as Eddie, who talks a bit like Sergeant Bilko, brings out all of the humour in the part superbly (of which there is a lot) without taking anything away from the more serious aspects of this frustrated, frustrating and ultimately tragic character. He also has excellent support from Catherine Kinsella as his niece, and also from Freya Copeland as his wife. As the immigrant workers, Craig Rogan is the moody Marco, whilst James Kristian is the charming and occasionally irritating Rodolpho - both have created superbly realised and real characters. The show is linked by the narration of lawyer Alfieri, played by Keith Ladd, although the only function this seems to fulfil is as a reminder of the chorus of Greek tragedy to emphasise that this is a modern tragedy.
Recent Linbury Biennial Prize winner for stage design Hannah Clark has created a simple but effective industrial setting that utilises the whole of the Octagon's stage on two levels, and that produces an interesting coup de théâtre at the end. If there is a small reminder of the silhouetted figure with the long shadow from the poster of Stephen Daldry's An Inspector Calls in the poster design for this production, a further reminder is the use of a silent chorus of citizens that appears every so often to observe events and apparently judge wordlessly the actions of the main characters, which is very effective. Ivan Stott's music and Andy Smith's sound design weave together music and sound effects between scenes and sometimes under dialogue to good effect.
This is an excellent production and a worthy beginning to the Octagon's mini-season to pay tribute to a giant of the theatre. Where some other theatres cut down on rehearsals in order to afford larger cast plays, there is no evidence of this here in this well-rehearsed and polished production. After a couple of less artistically successful shows at the Octagon from other directors, this production shows Mark Babych to be a very talented director and a great asset to the Octagon which, at its best, produces some of the best theatre in Greater Manchester.
"A View From The Bridge" runs until 25th February 2006
Reviewer: David Chadderton