A View From the Bridge
Arthur Miller
Richmond Theatre and touring
(2009)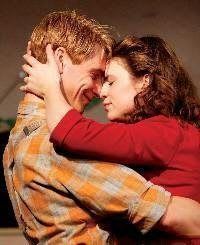 When the Lord Chamberlain refused a licence for Arthur Miller's two-act tragedy, Peter Brook famously staged the world premiere as a London club production. Now, despite its scene of a Judas kiss forced by one male upon another, the play is a set text and one hopes that school groups will get to see Lindsay Posner's riveting if uneven revival on tour.
And what a delight to find the touring version of a West End hit enjoying the benefit of its original cast members (even the understudies playing supporting roles), all of whom have been with this five-star production since it opened at the Duke of York's last January.
The great draw of course is Ken Stott's powerful, at times terrifying, central performance as the Brooklyn longshoreman Eddie Carbone, whose overly tender regard for his niece leads to tragedy on a Grecian scale.
I was lucky to have seen Michael Gambon's definitive Eddie at the National Theatre in the company of Miller and his wife Inge Morath - no, they were simply occupying the next two seats at a Saturday matinee in the Cottesloe, but it made the 1987 production one of the unforgettable highlights of my theatregoing career.
Comparisons are thus inevitable. Gambon was a big boned, stealthy character with a catlike walk in heavy boots. And he had the benefit of a set backed by fire-escapes and the Manhattan skyline, opening up the entire locality, while the Carbone's shabby sitting-room was placed centre stage.
For this revival Stott's battered, but jaunty Eddie, jeans rolled up at the ankles, is often marginalised by a surprisingly clunky set by Christopher Oram that regularly lowers a brick wall over the domestic scene while the company performs in a narrow downstage area like fugitives from a Christmas pantomime. The only sense of place is a smudgy brewery billboard with the Brooklyn Bridge of the title serving as the backdrop to a beer-selling slogan.
Fortunately this fidgety device is abandoned for the final tragic moments, played out as a Shakespearean street fight in full view of the Carbone apartment interior; while Stott builds the melodramatic temperature throughout the event-filled second act, from powerful raging bull to pathetic outcast, then to victimhood as the creator of his own downfall. Had this production opened a month earlier his performance would surely have won Stott all the 2008 best actor awards.
It would be unfair not to offer similar praise elsewhere, with an especially fine performance by Broadway actress Mary Elizabeth Mastrantonio as Eddie's long-suffering wife, the most rounded, deeply-felt portrayal I can recall of this largely reactive role, her body language speaking volumes of desolation and disenchantment.
For me Hayley Atwell as Eddie's niece Catherine in red shoes and tight-fitting dresses initially offers such a mature and modern performance that it seemes unlikely she would not have noticed the sexual undercurrents in her uncle's close interest.
Her attentive lighting of Eddie's cigar carries echoes of Ibsen's Nora and Dr Rank in A Doll's House, with more at stake. But like Stott the fires she banks up in the first act blaze forth in the second and shorter half, with an astonishing change of character from sweet girlhood to uncontained hostility and anger when she discovers that Eddie has 'snitched' on her young and handsome Sicilian lover as an illegal immigrant.
Miller's play had its beginning as a one-act verse drama with the lawyer Alfieri as the classic chorus figure from Greek tragedy. But Miller later came to see Alfieri's contribution as "superfluous embroidery."
This is especially apparent in this production since Allan Corduner's beautifully measured, well projected portrayal lacks even the trappings of a private office where he can interview Eddie. Instead stagehands rush out to plonk down a couple chairs in the back street, then dash on again to remove them at the end of the scene.
But don't let my negative reactions deter you from catching Posner's production which is easily the finest stage realisation of this important play you are likely to see this century.
Philip Fisher reviewed this production at the Duke of York's prior to the tour
Reviewer: John Thaxter