The Viewing Room
Daniel Joshua Rubin
Practicum Theatre
Arts Theatre
(2008)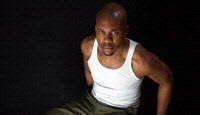 Place a prison-cell, complete with a criminal, inside a young couple's living-room and you get an intriguing two-way camera focusing on the physical and emotional impact on those involved.
The cell dominates the living room. Large lights overhang the cell responding even to verbal aggression. Cameras record every move inside the cell. Like a caged animal Kyle Carter, superbly performed by Leonard Roberts who is best known to TV viewers as D L Hawkins in Heroes, follows with suspicion the movement of his 'hosts', a white middle-class professional, Brian Walker (James Walker) and his wife (Samantha Wright).
Brian delights in the new task of rehabilitating Kyle, a black prisoner nearing his release from prison. He informs Kyle of his rights and endeavours to take good care of him. Yet the boundaries are clearly drawn as his wife reminds him, "You are not his friend: you are his commander-in-chief." However, Brian's enthusiasm for his part in the rehabilitation of Kyle and love for his for wife are matched by his wife's indifference to the programme and to her husband. An undercurrent of sexual tension evolves, exposing cracks in the couple's relationship. The social dynamics in the living room change once the couple discover that Kyle cannot be rehabilitated because he is not the prisoner to be released, but one who is on death row! To rectify their error, the prison services' provide the couple with the lethal injection kit and detailed instruction.
The idea of having a murderer in the living room is terrifying. The fact that the prisoner is caged, tagged and under constant camera surveillance reduces Brian's anxiety which borders on hysteria. The new information changes the existing equilibrium. Power gradually shifts to the wife, who sees a potential advantage in the new reality.
Kyle explains that he never committed the murder he was charged with, casting doubt on his conviction. The wife and the prisoner discover shared aspiration - freedom at all costs.
Rubin touches on a number of current social and human rights issues, to do with overcrowded prisons in the UK and the question of the death penalty, which continues to exercise the public imagination. The way these concerns are staged in the play artfully verges on the absurd, but is nevertheless profoundly effective.
A C Wilson's direction is competent and his casting of Roberts as Kyle has secured this young actor a promising début performance in London's West End - a talent to watch.
Rubin's play is challenging and stimulating: fittingly it is one of Amnesty International's events to celebrate the 60th anniversary of the Declaration of Human Rights.
Reviewer: Rivka Jacobson