Village Idiot
Samson Hawkins
Nottingham Playhouse, Theatre Royal Stratford East and Ramps on the Moon
New Wolsey
–

Listing details and ticket info...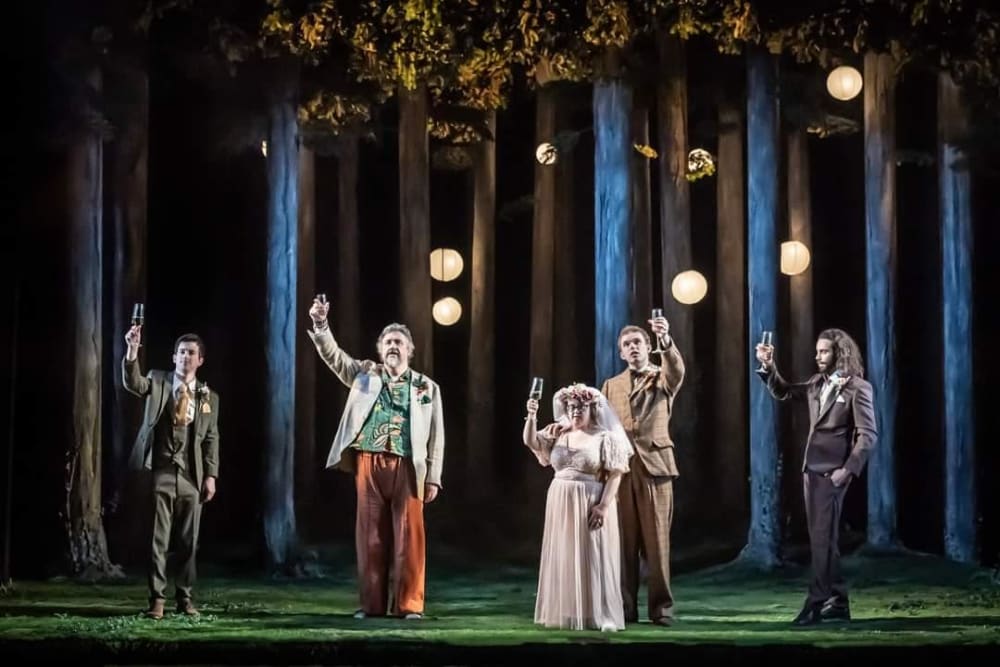 This is the final play in the Ramps on The Moon series which has given a platform to d/Deaf, disabled and neurodivergent theatre practitioners in collaboration with five producing theatres, the New Wolsey being one of them.
This time, it is Nottingham Playhouse's turn to come up with a production that then tours to the other theatres, but instead of taking a classic play and giving it their own take, as has happened previously, they have chosen the debut play of writer Samson Hawkins, who has taken inspiration from his life growing up in a village setting.
In my understanding, the Ramps on the Moon project was at its heart about accessibility and inclusivity for both actors and audience to theatre productions. However this foul-mouthed take on village life is more designed to alienate as many as it includes.
If you've watched the very clever comedy This Country on TV, you'll recognise the premise of this particular drama. But if you're thinking this is a cross between that and The Vicar of Dibley, you'd be very much mistaken.
The play is set in Syresham, a fictional village in Northamptonshire about to be obliterated by HS2. Most of the village have accepted that they must move on except Barbara. who has brought up her two grandsons singlehandedly in the house she wishes to die in and has no intention of moving from. Unfortunately, one of the boys—Peter—went away to university and is now back and working for the enemy, and it's his job to get the villagers out so construction on the new line can begin.
Meanwhile, his brother Harry, who is on the autistic spectrum, has started a relationship with Downs girl Debbie whose father has already thrown the towel in and intends to move them to Thailand and find himself a new bride.
Add into the mix Debbie's brother Liam, closet gay and erstwhile friend (and unrequited lover) of Peter, and you have the makings of an interesting, if unoriginal, plot.
There is no doubt there are some great characters here, but they are all larger than life and over the top of course—more caricatures than real people.
The cast tackle them with gusto. Eileen Nichols revels in her foul-mouthed 'Catherine Tate' granny, Mark Benton is equally obnoxious as Debbie's father Kevin.
The problem is that the bad language and the sexual and racist banter are totally gratuitous and continual from the start and from most of the characters. It's not just Granny who has forgotten to take her pills it seems! So by the end of the first half, you feel you have been beaten over the head by a very grubby stick.
The relationship between Harry, played very authentically by Maximillian Fairley and Debbie, played with feisty confidence by Faye Wiggen, is sweet and well acted but again overshadowed by crude themes and far too much 'effing and blinding'.
And of course it seems that all new writing at the moment has to have an obligatory drag queen shoehorned in it.
The set is excellent: a mock-up of a forest on stage is very authentic and it was clever to have the house sets as part of it. The structure of alternating between a village variety show and real life action was well done too.
And there are some genuinely funny moments. But be warned: the F word and the C word are constantly used throughout the production and the crudeness of the way sex and race is discussed is not for the faint hearted.
And of course there has to be a preachy bit about climate change to finish.
A disappointing end to what had been a great innovative project.
Reviewer: Suzanne Hawkes