Villain
Martin Murphy
Bruised Sky Productions
Kings Head Theatre
–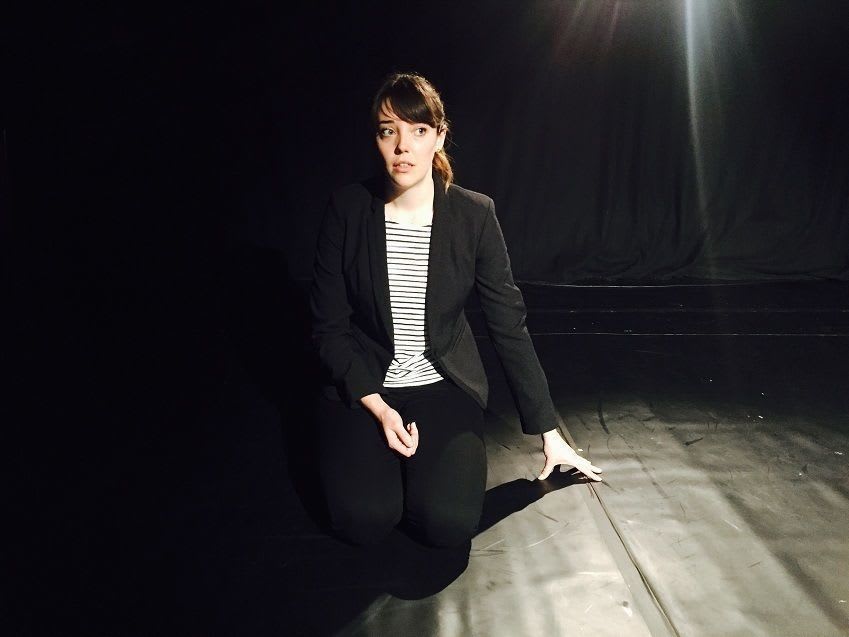 Villain opens with the shocking sounds of angry voices shouting "scum". The target of this abuse is the social worker Rachel (Maddie Rice) who the unseen crowd believe has failed to protect a child who came to harm.
Often the only glimpse we get of such social workers is of them hurrying from a court pursued by photographers and outraged protesters.
Martin Murphy's powerful and compassionate monologue goes behind the lurid headlines of such cases to give us some insight into the imagined character and circumstances of a particular social worker.
Rachel mostly speaks directly to us in scenes which shift between three points in her life. There is her post-university life as a call centre worker for an insurance company, her later life as a social worker and finally the nightmare of being at the centre of a tragedy about a child.
She felt lucky and happy to get the insurance job at the company IPI. The work seemed useful, and she quickly gained promotion and a high salary. However a disappointed call back from a woman customer convinces her that the work is a scam. Although disillusioned with the job, she is given the Queen's Award for Industry.
Deciding she wants a job where she can help people, she takes a drop in her income to train as a social worker.
She finds the work is "knackering" but incredibly satisfying. Like a lot of social workers she is allocated too many cases. At one point she finds her schedule allows her just five minutes to speak with a client before she is racing to the next case.
We don't hear exactly what happened to the child that led to a court case though we are given a rough idea. A comment from a member of the internal investigation panel suggests she will keep her job, though given the hounding she gets from the media that will be no easy matter.
Maddie Rice is exceptionally effective as she switches between being the harassed and humiliated social worker with tears in her eyes and the happy younger woman working in a call centre.
In 2016, the Department for Education released employment statistics showing that 25% of social work posts were vacant. The difficulty of filling these posts is in part a result of the growing workload and pressure. In the months leading up to the death of Baby P in 2007, the casework of the social worker dealing with the family doubled to "50% above the recommended limits".
Villain doesn't attribute blame or try to excuse failures of the child protection system, but it does encourage us to look with sympathy at the social workers that sections of the media too often rush to scapegoat.
Reviewer: Keith Mckenna