Vincent River
Philip Ridley
Yet Another Carnival
Hope Mill Theatre
–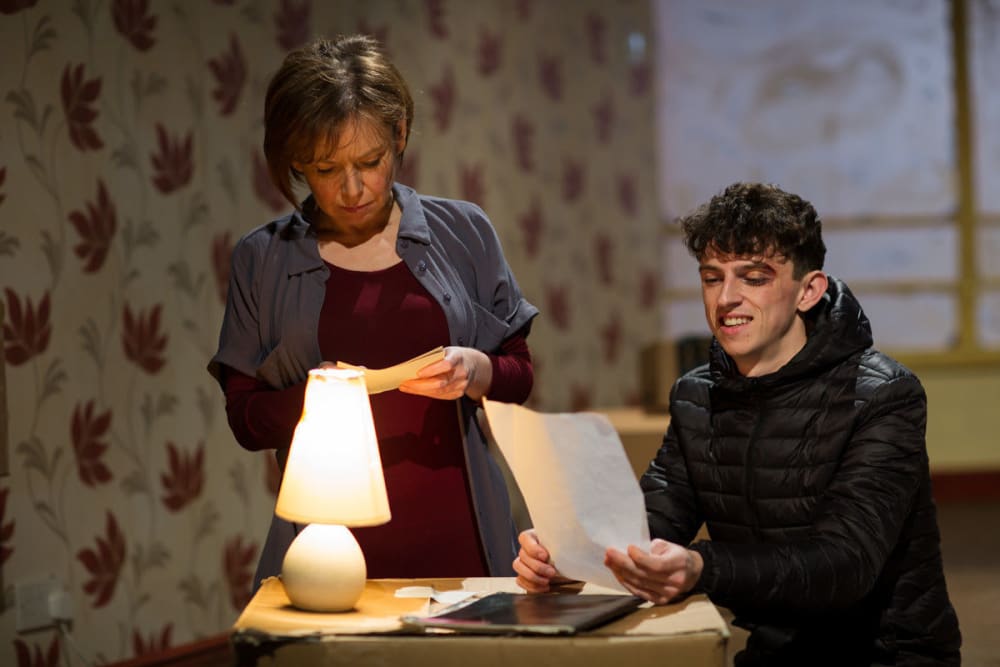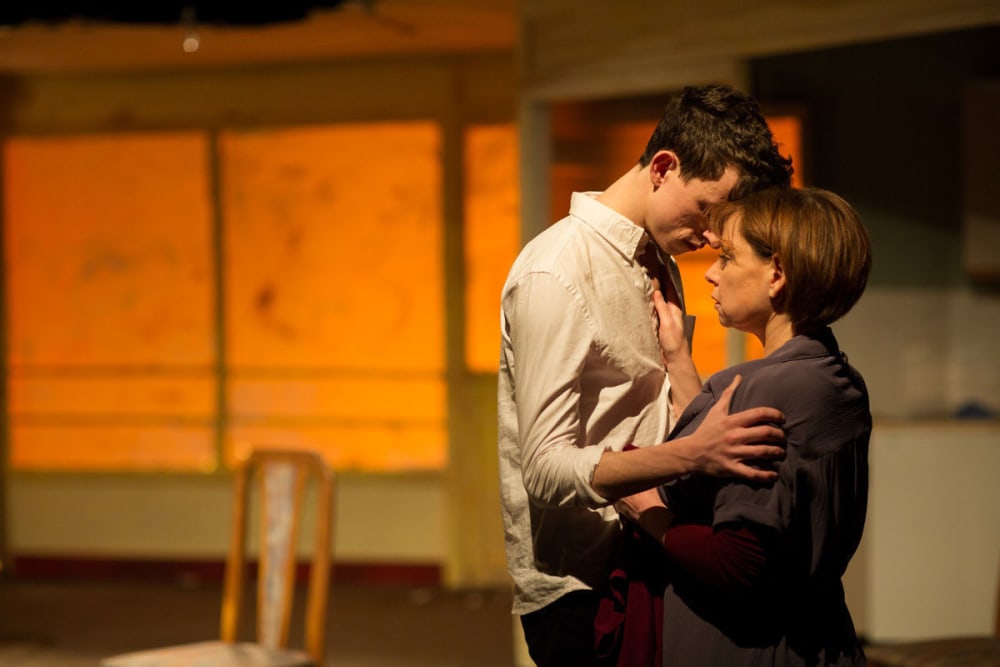 The first striking feature of John Young's revival of Philip Ridley's 2001 play is when the audience is led past some closed doors and into the theatre to find themselves stood in Anita's living room (designer Alice Smith), which they have to cross to get to the auditorium seats—a simple but effective launch into the world of the play.
Anita (Joyce Branagh) enters followed by a young man, who eventually introduces himself as Davey (Dominic Holmes). He has a cut over his eye, which she persuades him to let her bathe. This looks like a typically stormy mother-son relationship at first—ironic, as it turns out.
In fact they have no relationship at the start as they have only just properly met. Anita is aware that Davey has been covertly following her for a while, and she assumes it has something to do with the death of her son, after whom the play is named. Then he admits to her that it was he who found her son's body, although he got his fiancée—he was walking her home after their engagement party—to ring the police.
Vince was was found beaten to death in the toilets of a disused railway station at Withington Gate (the play has been relocated to Manchester). The press made a big thing about this being a notorious pick-up place for gay men, as a result of which Anita was ostracised by her friends and neighbours for having a gay son and abused in the streets. This is why she is now in this bare, run-down flat alone with her few possessions still packed in cardboard boxes.
But why is Davey here, and why does the man who merely found the body appear to be more in need of comfort and therapy than the victim's own mother? It isn't too difficult to guess the broader answer to that question if not the finer details. Their relationship oscillates between suspicious and hostile to warm and friendly but even at their most divided they are aware that they need one another in order to start to heal some deep emotional wounds. Once Davey's story is finally told, he leaves without a word, probably never to return.
While there is certainly no shortage of homophobia now, there is a lot about this play that makes it feel like it was set at least a couple of decades before it was originally staged, from the way some of these attitudes are played out to some of the references (unless Vince was privately educated, the latest he could have entered a state grammar school in Manchester would have been 1979 when I took my 11+). That doesn't take away from the power of the dramatic situation or the anger it can generate in audiences—in fact in some ways it intensifies it by taking us back to a time when homophobia was accepted and even acceptable across most classes and institutions, much more so than today.
Beneath the veneer of naturalism, Ridley uses some overtly theatrical devices to manipulate his audiences. When recounting past events, the characters speak in the present tense as though they are in a role-play session rather than in the past tense as we would normally when telling stories. Some of the sudden changes between affection and hostility seem more for effect than for realism, and the actors struggle to realise some of these effectively.
That's not to take away from two very strong, intense performances that grip throughout and are generally convincing even when the play itself stretches credibility. Young keeps up the tension with a good control of the pace of the play before hitting us with an emotional climax followed by a sudden end.
This is a gripping and well-performed interval-less hour and a half of a play that raises some still-important issues. If you see it on 13 March, Philip Ridley himself will give a post-show performance of some of his poetry.
Reviewer: David Chadderton