Who's Afraid of Virginia's Sister?
Sarah Daniels
Chicken Shed Theatre
(2006)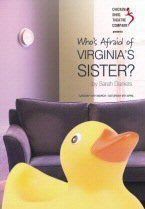 The theatre experience begins when you walk into a theatre and approach the box office. Here Chicken Shed excels with friendly staff, a full bar and a warm atmosphere. When you take your seat, you are given time to settle down and absorb the live instrumental (Sam Akkas – Flute, David Carey – Piano, Anne-Marie Kirby – Violin) as the theatre beings to fill. It's the small details that make an audience feel comfortable and subsequently in a position to enjoy Who' s Afraid of Virginia' s Sister?, a new play by Sarah Daniels, commissioned by the Arts Council.
This two act play unfolds in a structured way to illustrate the bittersweet relationship between an alcoholic mother, and two stepsisters. However there are no obvious stereotypes within this triangle. The mother, played by Jelena Budimir with honestly and humour, is split between her own daughter, Alex, a successful author (played by Gemma Rubinstein), and her ex husband's disabled daughter, Debbie.
Debbie is unafraid to assert herself and knows what she wants while Alex is dependent on therapy. Here Daniels plays with our expectations of these two stepsisters, and makes some poignant statements about our society when Debbie, played with confidence by Amy Golden, says, "[able bodied people are so] self obsessed that they want to change themselves as opposed to society. "
The performance from Charlotte Bull and Dina Williams, who play the clinic cleaners, is highly entertaining and both performers prove to be extremely versatile in all the other roles they play from Mrs Pankhurst and Frida Kahlo.
The direction of the play is unforced; transitions are unapologetically choreographed, and the use of the space is both economical and effective. Only Chicken Shed could have produced Who' s Afraid of Virginia' s Sister? - a wonderful family show and an enjoyable night out at the theatre.
Reviewer: Lennie Varvarides