Who's Afraid of Virginia Woolf?
Edward Albee
Northern Stage and Sheffield Theatres co-production
Northern Stage, Newcastle
(2011)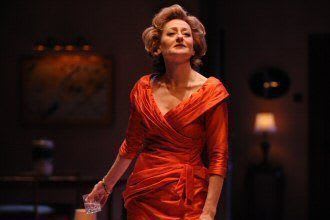 I've seen Who's Afraid of Virginia Woolf? once before, in the early seventies, and I have never seen the film, so it's a measure of the quality of Albee's writing (and a welcome indication of the fact the increasing age hasn't totally ruined my memory!) that not only did I remember individual lines but whole sequences came back to me as they unfolded on stage.
For this is a superbly written and constructed piece. As we pass through a series of almost balleticly - does that adverb exist? - constructed encounters (solo, pas de deux, pas de trois, whole company), the lives of the four characters are laid bare - or perhaps it should be flayed raw, for this is a cruel tearing apart of the myths which sustain two marriages, set against the (internal) political, sexual and academic intrigues of a minor Ivy League college in early sixties New England.
Albee originally wanted to be a poet and it shows in the density and power of his language. George, in particular, uses words like a stiletto but he is not above using them as a bludgeon, as when, in the last act, he thrusts the words of the Kyrie in Martha's face. In fact, what both he and Martha say positively drips with sub-text and the revelation of both marriages' secrets is, as one looks back, foreshadowed very early on by the carefully chosen words. And part of the joy of the piece, from the audience's point of view, is the laughter which, as the play progresses, becomes increasingly guilty. Albee achieves that difficult task of evoking laughter for which we almost immediately feel ashamed.
Such complexity and intensity requires subtle playing, for in insensitive hands many of the play's speeches could become mere rants. The combination of a superb cast - Sian Thomas (Martha), Jasper Britton (George), John Hopkins (Nick) and Lorna Beckett (Honey) - and very sensitive direction by Erica Whyman ensures that this doesn't happen. And it also makes sure that the characters are fully explored and developed which leads, of course, to utterly convincing playing.
The reconfiguring of the Stage 1 auditorium as a thrust brings an intimacy to the production which the more usual almost "epic" proportions don't encourage and draws the audience in to Soutra Gilmour's beautifully realised book-lined living room with its obligatory (for the period) drinks cabinet.
One thing I did wonder about beforehand. This is a long play (nearly three and a half hours) with two intervals - the way theatre used to be - observing the unities of time (more or less), place and action, but modern audiences are used to short scenes and an almost televisual presentation. Indeed, most modern plays (let's forget Robert Lepage here!) are considerably shorter. How would the audience (a very large proportion of young people) react? It is a further tribute to the play and the production that they were riveted and the buzz as they left was electric. Definitely not one to be missed!
"Who's Afraid of Virginia Woolf?" runs until 30th April.
Velda Harris reviewed this production at its premiere in Sheffield.
Reviewer: Peter Lathan