Visible
Sarah Woods
RSC and Cardboard Citizens
Soho Theatre
(2006)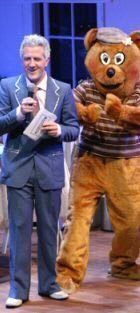 Settling into your seat for the opening of the London leg of Visible last week, you could have been forgiven for thinking that even the Soho Theatre had come over all Alan Ayckbourn. I confess to feeling, after a long day, mildly reassured by the familiar paraphenalia of Rob and Hattie's mock-Georgian magazine-picture-perfect home. A suitably Soho-edgy comedy of middle class modern manners was sure to follow. Not too taxing on the weary mid-week brain, or on the left (to middle) theatre-going conscience.
Fortunately, I was most emphatically wrong. The cracks don't take long to show, and soon Rob and Hattie are facing the complete implosion of the various layers of their carefully fabricated lives. All they want to do is cook Sunday lunch for their neighbour (Hattie's lover), their friend (whose cat Hattie is about to serve up as "winter veg") and a minor celebrity who is followed everywhere by three man-size furry animals with whom he co-hosts a game show. What Hattie wants to know is, when life is sweet as treacle, sugar and honey, how can it all have gone so horribly wrong?
The RSC has collaborated for this project with Cardboard Citizens, a theatre company which works to promote the problem of homelessness in the UK. Don't think for a minute that the worthiness of its mission statement compromises Cardboard Citizens' purely theatrical credentials. Visible has a strongly didactic message, but this only serves to transform what would otherwise be a hilarious, pacy black comedy into genuinely important theatre. Led by television's Spooks' Rory MacGregor and the RSC's Karen Paullada, this is a cast with brilliant ensemble-style comic timing under direction which has the confidence to know exactly where it is going without undermining the essential tension of the piece with excessive signposting. Much of the drama depends on the twists of the plot, so it is difficult to say more without spoiling it. Suffice it to say, go - this is theatre at its funniest, blackest, most daring and challenging best.
Reviewer: Louise Hill