Visionary Revolutionaries
Waxing Lyrical - The Story of Madame Tussaud
By Judith Paris
A Grain Of Sand In Lambeth - The Story of William Blake By Michael Loughnan Landor Theatre
(2010)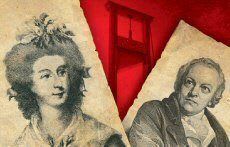 The Landor Theatre offers a glorious double bill in Visionary Revolutionaries; two actors, who also write, bring two people consigned to the history books back to life in an evening of most engaging theatre.
Waxing Lyrical is the first of the two pieces and most definitely deserves its name. Judith Paris' portrayal of Madame Tussaud is captivating as she experiences a rollercoaster of emotions: from the honour of being invited to the French Court, witnessing her beloved royal family's death and escaping the guillotine to her subsequent adventures across the Channel in Britain. Paris fully commits to the role with a faultless Swiss-French accent, effortlessly swapping between the seventy one year old Tussaud and her former child self in a series of flashbacks that help to tell her story. Wisely, the piece does not address the audience, but is framed as Tussaud recounting her adventurous life to her son. Inspired lighting and sound effects create the necessary illusion of different time periods and setting and help to establish a wonderful sense of atmosphere.
Paris' acting is outstanding, conjuring up the effect that she, alone on the stage, is in the middle of a thronging crowd or conversing with her mother. A simple set of a table, chest and chair, with manikin heads hanging from the ceiling, is all that is needed to evoke the myriad scenes. The chest becomes a bed, the manikins real people, the table a market stall, all highly believable as the audience join Paris on an imaginative journey through Tussaud's life.
The spotlight for the second piece of the evening falls on William Blake, played by Michael Loughnan. Here the monologue recounts Blake's time spent in Felpham with William Hayley, the deterioration of his dear wife Kate's health and an incident which landed him in a Chichester court. The period of time covered in A Grain Of Sand In Lambeth is not as vast as a lifetime and allows Loughnan to delve deeper into the specifics of events in Blake's life. As writer, Loughnan effortlessly weaves Blake's poetry throughout the text and as actor successfully portrays a very religious Blake who believes that a 'mocker of art is a mocker of Jesus'.
A lot of research must have gone into both pieces, which themselves make for a wonderful history lesson. Both monologues are fitting tributes to two people who had to contend with their own personal battles while the French Revolution raged on.
With two great actor-writers and two such interesting characters in Tussaud and Blake, there's never the risk of the production becoming as lifeless as one of Tussaud's wax figures. The intimate setting of the Landor Theatre allows the work to be enjoyed at first hand, up close and personal, just as Tussaud intended in her exhibitions, with Paris and Loughnan's theatrical pieces joining Tussaud and Blake in most definitely delighting the creative mind.
Playing until 24th April 2010
Reviewer: Simon Sladen