Visiting Mr Green
Jeff Baron
Yvonne Arnaud, Guildford, and touring
(2007)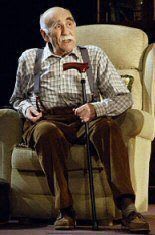 This is at least the fourth time Warren Mitchell has played the irascible Mr Green. His first was a millennium production at the West Yorkshire Playhouse, before he took both the play and himself for a new life in Australia.
The character he portrays is an 86-year-old Jewish New Yorker, a curmudgeon regularly visited by Ross, a young financier with American Express who has been given a spell of community service as a punishment for reckless driving — in fact almost biffing the near suicidal Mr Green who had suddenly stepped in front of his car.
Jeff Baron's sentimental two-hander is a star vehicle for Mitchell, with upcoming David Sturzaker in the stooge role of the younger man: a short gentle comedy in which each is finding it difficult to come to terms with this odd and intrusive arrangement, ordered by the courts without thought for the feelings of the elderly widower and his wish for complete privacy.
Eleven years on from its Massachusetts premiere, the play, like its chief character, is showing its age. Conscious of this Baron updated his script, among other changes giving Ross a cellphone instead of having to rely on Green's disconnected instrument or the payphone down the hall.
But he was reckoning without the veteran actor who, when asked why he keeps coming back to the role, replied with touching honesty: "Well, when you get to a certain age, in my case 81, it's not easy to learn lines, so that's a good reason for doing the play more than once."
Thus, out of respect for his failing star, director Patrick Garland has revived the old original, although when I saw the production in Guildford on the fifth leg of the tour, Mitchell's performance was still rusty, with fumbled cues and hesitations. Now nearer in age to the role, he takes his curtain call with the same geriatric unsteadiness as the character. But despite a certain lack of energy, his expert comedy timing, kvetching away in solitary squalor and denial, still suggests otherwise.
Sturzaker, playing a gay man rejected by his orthodox family, gives every bit as much as he gets, turning this potentially melancholy piece into an evenly matched comedy duo, with Mitchell as the droll Yiddish, reactive figure.
Where play and performances still retain a certain currency is in the revelation that the old man, a strict kosher bigot, has brought sorrow upon himself, his late wife and their only daughter and her offspring, with his cruel refusal to acknowledge her marriage outside the Jewish faith.
This object lesson in hard-line religious intolerance, the pain and grief it brings and the need for forgiveness, finally delivers the play's uplifting message.
Touring to the Theatre Royal Nottingham, and the Rose Kingston upon Thames
The publication of this review has been delayed by circumstances beyond our control
Reviewer: John Thaxter