Visiting Grandad
Written by Mike Kenny
Tutti Frutti and York Theatre Royal
York Theatre Royal and touring
(2009)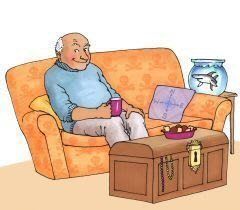 Coming at the tail end of the Theatre Royal's commercially and artistically successful youth "Takeover" Festival, Visiting Grandad caters for a very young age range, aiming at an audience of three- to seven-year-olds. Alison Heffernan's design brings to life a colourful, seventies-tinged sitting room crammed with everyday knick-knacks, welcoming the audience in as disco classics get children jigging in their seats.
The opening of the play itself, however, strikes a more subdued note, with the likeable Chris Lindon slowly examining the surroundings, which are soon to be transformed by the power of Grandad Jack and his grandson's imagination. Lindon strums a guitar and sings a warm (and infuriatingly catchy) ditty about one particular visit, aged around four, to his grandfather's house. Stewart Thomas as Grandad Jack himself is a gruff but never too intimidating presence, the boy a sweet, doe-eyed puppet made by John Barber and ably animated by Lindon.
Gradually, the reticent boy is coaxed out of his boredom at being abandoned with his grandfather, as Grandad Jack admits his "secret": that he is actually a pirate, and that his watch has been stolen for buried treasure by his nemesis. Together, the pair convert the sitting room, through a chaotic re-configuration of its familiar items, into a pirate ship which carries them away on a quest to regain the treasure. The pace quickens and there's danger present, but director Wendy Harris ensures that the production proceeds evenly, without shocks to nervous children's systems: the danger is nothing that can't be fixed after eating a nice plate of beans. As the transformation occurs, there are one or two dramatic moments of visual imagery (provided by digital artists KMA) which inspired gasps of amazement from the youngsters in the audience.
For the most part, however, this is a gentle, simple story told on a small scale (particularly in comparison with Kenny's previous project, the hugely successful Railway Children). It aims not to wow audiences but to encourage children to use their imagination in and beyond the theatre auditorium, an admirable objective which the production's simple programme also furthers, with pirate finger puppets and suggestions for follow-up activities.
While the word play of the lyrics occasionally falls between two stools, not involved enough to raise a parental chuckle but just beyond the reach of the children, for the most part this is a lean and lovely script, well-matched to a company who have provided a production to enchant audiences of first-time theatregoers. When mum finally calls to collect the boy he is, of course, reluctant to leave, and he heads home looking forward to his next visit. This charming fifty-minute play succeeds in doing the same for young audiences on their first visit to the theatre.
"Visiting Grandad" tours nationwide throughout October, November and December. See www.tutti-frutti.co.uk/latest for tour dates.
Reviewer: Mark Smith