Visiting Grandad
Mike Kenny
Congreve Room, West Yorkshire Playhouse, Leeds, and schools' tour
(2011)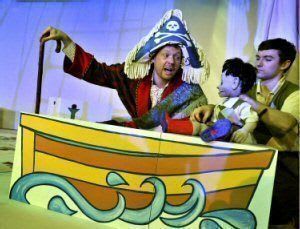 Only the call of a Mike Kenny written/Gail McIntyre directed West Yorkshire Playhouse production would have had me in the WYP Congreve Room (which is all too often suffused with a whiff of cooked meat) at eleven o'clock on a glorious June morning. But after seeing five previous shows, I am becoming a groupie.
And this one might test my admiration to destruction. Visiting Grandad is aimed at three year olds.
A dozen or more of them are draped on a cloth in front of a simple set . The set features adaptable boxes, a mug (soon to be a parrot), a telephone, and, most intriguing, a two foot high puppet with a round, grey head, split like a turnip lantern, which dangles from the curtains stage right. Lighting is bright and gives a distinctly boiled eggy look to the set's white, yellow and red. Arced behind the kids are their parents, mainly mums, and a few older children.
Matthew Tanner ambles around the stage with his guitar. And then begins to sing a simple song with an outrageously repetitive refrain 'visiting grandad Jack'. Enter Marvyn Dickinson as Grandad, in plaid dressing gown, with stick for brandishing and giving help with his bad leg. He hams it up a bit, looking for something he knows he's put somewhere, coughing loudly, wincing as granddads do..... and warming up the audience a treat. Dickinson and Tanner (as actor and actor/puppeteer) are a joy to watch, it looks like a born partnership.
Tanner, it becomes clear, is remembering the visit, when he was three. Then he neatly segues into puppeteer and the grey faced, large headed doll becomes his earlier self who is, of course, visiting grandad Jack. Amazingly this very non-naturalistic puppet becomes a believable child who captures the audience's emotions. To a large part this is due to Kenny's brilliant dialogue, but there is also magic (okay, great skill) in John Barber's puppet design and Tanner's manipulation and voicing.
Dickinson makes no attempt to hide the fact that he is a young man playing an old man, nor that the old man in question is usually a cantankerous old sod. We see Grandad energised by the little lad and, as my mother would have said, he begins to 'romance' about being a pirate. Little Jack is sometimes taken by Jack's tales of piracy on the High Seas, sometimes dismissive. He has all the clear-eyed perception and wonderful innocence of a real child.
The performance, script and direction are phenomenally good; they scream intelligent, exact observation of human behaviour. Repeatedly the audience experiences that shock of recognition that creates laughter. Within minutes the parents and kids are won over by the quality of this production and are locked in concentration and the magic of theatre.
McIntyre and Kenny create work which never underestimates the innate ludic intelligence and urge to understand that is intrinsic to the life of small children. Experts on play, children naturally make appreciative audiences for plays. Stagecraft that could leave some adults alienated or confused is easily read by children and enjoyed. Kenny and McIntyre know this and should be honoured for the part they are playing in giving joy to kids and creating audiences for tomorrow.
First working the region as a West Yorkshire Playhouse Touring Company production in 2001, this new production of "Visiting Grandad" is part of the WYP 21st Birthday Season. It tours local schools and on Saturday 25 June an Arts & Business Award-winning Relaxed Performance, which has been developed by the Playhouse for young people with learning disabilities and their families, will be staged as part of Special Needs Week.
Reviewer: Ray Brown