Voices
Stuart Clarke
Cordial Productions
Lion and Unicorn Theatre
–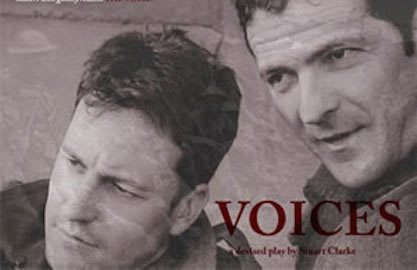 Devised by its director Stuart Clarke, this is a moving two-hander that presents two soldier veterans of the First World War meeting up and performing an act of remembrance. They call it "playing the game of ghosts" as they recall their own experiences and the lives and deaths of others.
It is constructed from the letters, poems and retold memories of the men themselves with snatches from songs sung in the trenches and while marching: the words of ordinary soldiers and of their officers, those who lived and those who died, even those of a veteran soldier in the workless peace that followed encountered by his former officer selling matches.
It is simply staged, making it the more effective, two men, in shirtsleeves or in greatcoats, lit mainly by a single candle. Flashes of light and bursts of sound suggest artillery thunder and a bombardment that bowls the actors over.
Anthony Cord gives a powerful performance, differently voicing a succession of older, more experienced men from different regions and different classes, their messages and memories packed with strong emotion. Richard Zanik, playing the younger men, is less clearly spoken but he too is full of feeling. This is integrated playing as the two pass a piece of verse phrase by phrase between them, conduct a dialogue or sing a few bars of a song together.
Clarke's direction uses the space to embrace the audience, contrasting stillness with sudden movement, touched occasionally with poignant humour.
The sound of a regimental piper in the darkness creates a potent atmosphere followed by the elegiac sound of Vaughan Williams's Tallis variations and birdsong. Some of the material is familiar—a few lines from Wilfred Owen for instance, snatches of popular songs—but most is not.
One veteran who shared memories of things he had never spoken of for fifty years was Royal Fusilier Alfred Razzell who told of trying to save his fellow soldier William Hubbard but having to leave him in no-man's-land.
An earlier version of Voices was introduced by "Alf" Razzell and his wife Wynn. Writer-director Clarke offers this revival in memory of Alf and, as he himself put it, "all those lovely lads who joined with him and never came home." It is a tribute much more touching than any pompous state occasion.
Voices is not playing a continuous run through all the given dates. Check the theatre's web site for performance details.
Reviewer: Howard Loxton