Void
Mele Broomes
MHz and V/DA with Feral
Summerhall
–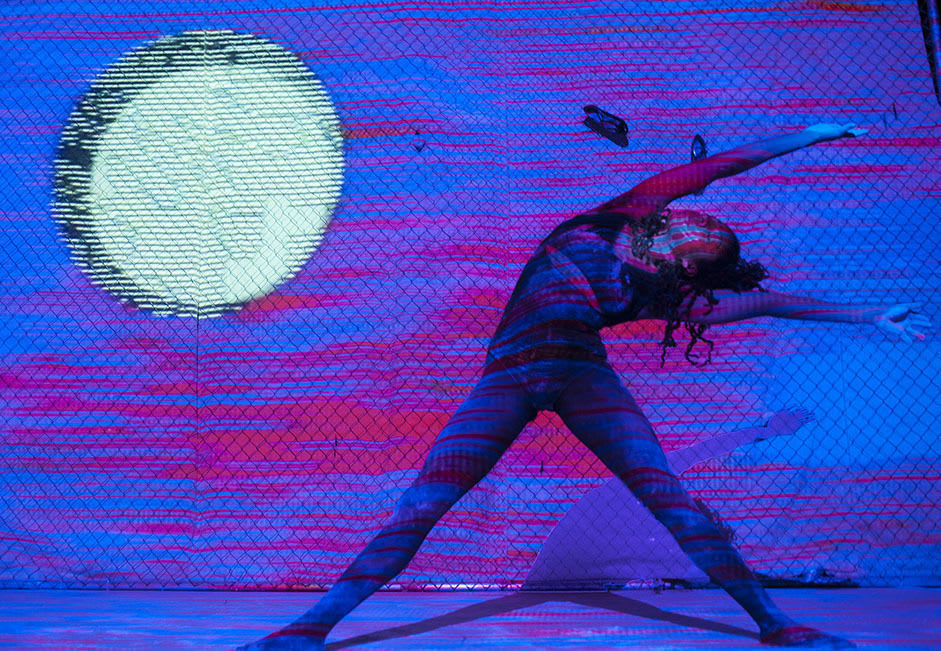 Void is based on a re-imagining of Concrete Island by J G Ballard, replacing the white, male, middle-class architect of the 1974 original novel with a black, female equivalent in the here-and-now.
Ballard's protagonist was returning to his wife and kids after an evening of betrayal with his mistress. His car crashes over a barrier on the motorway overpass and he is stranded in the concrete non-place below where the privileges of patriarchy have been removed and he is confronted with himself and with survival.
In this version, dancer Mele Broomes, is marooned in a space of rubble and weeds with the identity she has internalized, the values which have been imposed on her as part of the suppressed trauma of a black woman. The cacophony of the soundscape, the crackling distortions, the flashing colours and disconnected digital images projected onto the backdrop seems to drive her mania of twitchings and extreme movements.
Firstly, she cries for help, before falling the victim to violence; then she throws herself at the wire fence, pummelling and lacerating it with her high heel shoes, fear and dispair and anger gaining sway until, defeated, she huddles in a plastic bin bag, a snivelling, grovelling creature crawling on the wasteland, surrendering to the loss of a false self. It is one of many impressive images.
This is not an easy performance to watch, though it releases, as a totality of movement, sound and image, a great rush of emotion and energy. Great credit goes to the dynamic Broomes, who generously turns herself upside down, literally and figuratively, to articulate the emergence of new ways of being, grounded in authenic experience.
Reviewer: Jackie Fletcher