Volcano
Noel Coward
Richmond Theatre, Surrey
–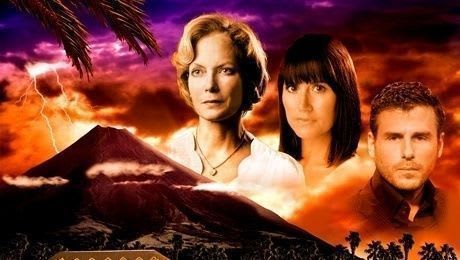 In 1956 Noël Coward had two comedies running in the West End, South Sea Bubble with Vivien Leigh and Nude with Violin with John Gielgud, and they were successful only because they were by Coward and starred Leigh and Gielgud.
1956 was also the year of the premiere of John Osborne's Look Back in Anger, the first visit of Bertolt Brecht's Berliner Ensemble in Mother Courage and her Children and the London premiere of Arthur Miller's A View from the Bridge.
In 1956 Noëel Coward was a 56-year-old tax-exile living in Jamaica and writing Volcano. It was never performed during his lifetime; and if you see this touring production, you will understand why.
Volcano, rashly billed in the poster as Noël Coward's newly discovered gem, doesn't feel like a play by Noël Coward at all. It is certainly no gem. Where is the Coward wit? There is one good line: "The most beautiful thing about having people to stay is when they leave."
Where's the satire on British Colonials and their Caribbean lifestyle? The characters are so uninteresting. They just sit around and discuss sex. The production is sluggish. The volcano rumbles and finally blows its top, but to little effect. Nobody gets killed.
Two of the men are suddenly shown to be bisexual. The unlikely scene in which they roll about on top of each other on the grass is awkwardly introduced and then nothing is made of it.
Jenny Seagrove plays an unhappy widow (who is pursued by a married philanderer), a role Coward wanted Katherine Hepburn to play. Dawn Steele's role of the embittered wife of the philanderer has more bite.
Would it have been more rewarding, I wondered, to revive Noël Coward's first West End play, I'll Leave it To You, which premiered in 1920 when he was 20?
Touring Bath, Cambridge, Eastbourne, Shrewsbury, Guildford, Oxford, Brighton, Bromley and Malvern.
Reviewer: Robert Tanitch