Volcano
Noël Coward
Bill Kenwright and Thelma Holt
Vaudeville Theatre
–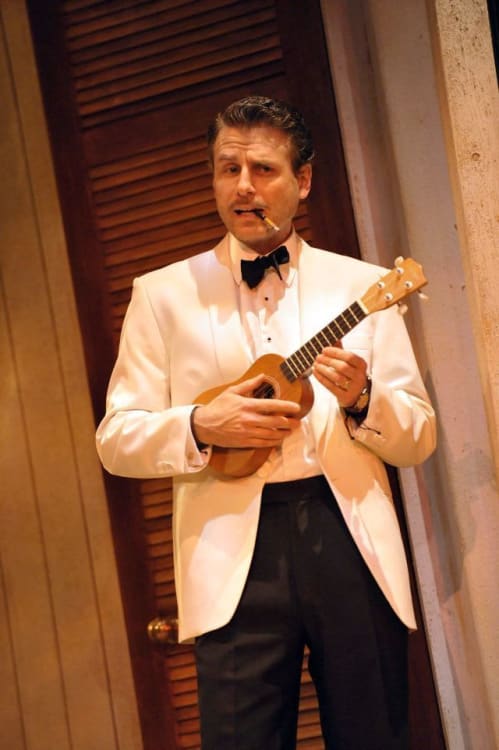 Set on the verandah of the house of widowed ex-pat Adele Shelley, built high on the slopes of a volcano on a South Pacific island, this picture of British sexual manoeuvrings in the 1950s could as easily have been set in the Caribbean where Coward had his home. Indeed its plot is said to have been based on the shenanigans of James Bond author Ian Fleming who was one of Coward's neighbours in Jamaica.
Whatever the real life source, when West End producer Hugh ("Binkie") Beaumont received the script from Coward's agent in 1957 he wrote to Coward saying (according to Coward) that "such people no longer exist or, if they do, are apparently not acceptable as serious characters." Coward did a rewrite but that got turned down too and, apart from a rehearsed reading at Sonning Mill theatre in 1989 this production, which comes into the West End after a short tour, is its first staging.
Beaumont was making his judgement at a time when new sorts of play were attracting audiences. It was just twelve months after John Osborne's Look Back in Anger had opened at the Royal Court and two years after Waiting for Godot had opened at the Arts. Maybe if it had been packed with the clever witticisms that London theatregoers might expect from Coward he might have thought again, but, though not without its flickering of wit, Coward is using this seemingly flippant smart set to say something serious, exploring ideas that might perhaps have attracted the Lord Chamberlain's office blue pencil as well as causing possible embarrassment to their real-life counterparts in Jamaica. Or perhaps he just did not rate it as a play.
Volcano is neatly contrived with the rumblings within the mountain matching the emotional turmoil in its characters' lives, but there is no eruption, volcanic or otherwise, though quite a lot of bitchy banter. Interesting, rather than exciting it is working here, in Roy Marsden's production, because it is so well performed rather than having the panache one might expect from Coward's pen.
The Fleming-like Lothario is Jason Durr's Guy Littleton. Dashing in a white tuxedo and full of seductive charm, he could be an avatar of James Bond himself. He has clearly captivated Jenny Seagrove's elegant Adela but, as he puts it, hasn't "broached her fastidious virtue". He hasn't got her into bed. She's faithful to the memory of her dead husband and, after all, he is a married man.
Her best friend Gizelda tells her "Don't deceive yourself about technical chastity being important" and suggests she "face up to infidelity being inevitable." But you can't imagine Finty Williams's forthright Grizelda being unfaithful; she and husband Robin (Robin Sebastian) are the picture of kindly uxuriousness.
Guy is telling the truth when he tells his wife Melissa that their relationship is strictly platonic but her sharp-tongued reply the he is "incapable of being strictly platonic with anyone—man or woman" sounds much more likely. Indeed he soon scores with Adela's young guest Ellen (Perdita Avery), herself in the middle of a marital crisis, and when her husband Keith (Tim Daish) turns out to have known him earlier they grapple in boyish reunion there's no doubt Melissa knows him all too well.
"The Master" here may not just be looking across to goings on at Ian Fleming's Goldeneye but looking back in middle age at his own life and pondering on conquests and jealousies, needs and responsibilities, fidelity and companionship. Mixing compassion with acid comment he is not judgemental but leaves that to the audience.
Reviewer: Howard Loxton