Volcano
Noël Coward
Thelma Holt and Bill Kenwright
Yvonne Arnaud Theatre, Guildford
–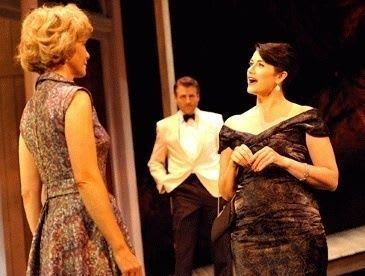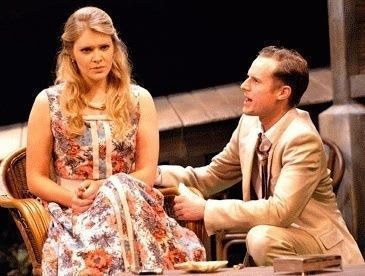 The first major production of Noël Coward's "Newly Discovered Gem" had me wondering how on earth a play by the Master has escaped notice until now. Discovering the content I understood.
At a time when his style of light, witty, sophisticated entertainment had fallen out of fashion, the Angry Young Men making their presence felt with realistic kitchen sink drama, he disappeared from view with the dubious honour of becoming Britain's first tax exile. From his home in Jamaica, the extravagantly decadent and blatantly immoral lifestyle of the rich and famous gave a wealth of inspiration for a play. Names were changed, but characters so thinly disguised that a lawsuit would very probably have ensued and, together with the sexual and bi-sexual content, no one would touch the play. It was never performed in his lifetime.
Time marches on, Coward is now back in fashion, those portrayed in the play have passed on their way—and I suspect we are all heartily sick of the kitchen sink.
Most of the fun of this play, as well as untangling all the relationships, is working out which real-life character they represent, and with that in mind I would suggest that excellent actress Jenny Seagrove has been rather miscast as the widow Adela. Instead of the feisty, stylish women running a banana plantation single-handed, we have a depressed and weary character wanting nothing more than to give her love, but not her body, in her affair with the charismatic Guy and sit contentedly in the sun. Jason Durr, on the other hand, is every inch the womanising charmer Guy, sex being uppermost in his mind with whoever attracts him, be it man or woman. Not surprising that the sex-and-danger James Bond novels came from this man's fertile imagination.
On a tropical island, Adela's house, perched on the side of a volcano, is well represented in Simon Scullion's set. Wooden shutters give glimpses of the cool interior, wicker furniture is arranged on the grass and sea-shells line the shelves, while a steep path winds upwards with signs of a lava flow among the lush vegetation.
In the steamy heat of this tropical paradise, tensions and emotions are seething beneath the surface with the constant rumblings of the volcano echoing the eruption which is bound to happen—and is expected when Guy's wife Melissa arrives on the scene. This is a Coward character we recognise—superficially brittle, sophisticated and the master of bitingly sarcastic one-liners—beautifully played by Dawn Steele, adding spice and comedy but also eliciting sympathy as she can't completely hide her vulnerability. She is particularly bitchy to Perdita Avery's young and attractive Ellen, also in a complicated and unhappy marriage and—surprise—Ellen and Guy casually hop off up the volcano for a little dalliance.
A delightful Finty Williams as Grizelda and loveable Robin Sebastian as Robin Craigie are the only couple in marital harmony—how they got mixed up with these dysfunctional couples I can't imagine.
The eruption finally comes with a force which shakes the theatre, giving a terrifyingly near-death experience and a realisation of how unimportant their little lives are compared to the force of nature which will always overshadow their petty quarrels. The arrival of Ellen's husband Keith (Tim Daish) with his surprising confession ends the play on a note of hope. Will all be resolved now, or has a whole new situation developed? You decide!
Touring to Oxford, Brighton, Bromley and Malvern
Reviewer: Sheila Connor