The Vortex
Noël Coward
Royal Exchange Theatre, Manchester
(2007)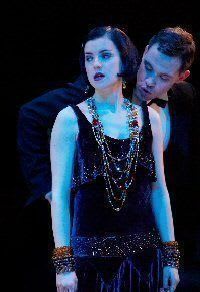 The Vortex was, according to the playwright himself, the play that established Noël Coward both as a playwright and as an actor, as he wrote the central part of Nicky Lancaster for himself, shamelessly building up his first entrance with the anticipation of the other characters and giving himself the most dramatic scenes and transformations. The Royal Exchange, in this revival from director Jo Combes, has done the reverse by using a star to draw attention to the play - with some success if the packed house and coachload of top broadsheet critics from London is anything to go by.
The play depicts the upper classes during the 'roaring twenties' with their endless round of parties, theatre visits, cocktails and lovers. Florence Lancaster shows off her latest young lover, Tom Veryan, whom she seems to take merely to try to defeat the ageing process. She is also eagerly anticipating the return from Paris of her son, Nicky, who arrives a day early and displays the same frivolousness and superficiality as his mother, while still showing respect and affection for his silently disapproving father, David. Nicky drops the bombshell that he is engaged and introduces his mother to his fiancée Bunty Mainwaring. Of course everything falls apart in the much darker second and third acts, culminating in a confrontation between mother and son in which he tries to convince her of the emptiness and loneliness of her life and blame her for what he has grown up to become.
Pop star Will Young here makes his professional stage debut as Nicky Lancaster, which is quite a challenge for someone with so little acting experience and a brave move in front of the UK's most influential critics. To his credit, he certainly doesn't disgrace himself - far from it. He plays Nicky at first as a slightly camp, spoilt young boy, which works very well as a reflection of the way his mother behaves; later he matures considerably to confront his still-childish mother, but Young doesn't quite have the emotional range to pull off this transformation and so these scenes drag a bit, partly as a result of this. His voice is noticeably slightly underpowered next to the more experienced actors, but there is no problem with hearing what he says and he is charismatic on stage and brings out the humour in the part.
Young does have some strong support from the rest of the cast. Diana Hardcastle fills the character of Florence Lancaster very well, depicting very clearly the emptiness and loneliness beneath the partying and frivolities. Even she cannot bring together the scenes where she is being harangued by her friend Helen, in a strong performance by Alexandra Mathie, and then Nicky for her lifestyle as the uneven pace makes the arguments seem repetitive and circular. David Fielder proves himself adept at the acid-tongued put-down as the camp Pauncefort Quentin, David Peart gives us some nice moments of repressed fatherly affection and disapproval as David Lancaster and Laura Rees brings a down-to-earth quality to Bunty Mainwaring.
Lez Brotherston's set is a swirling vortex of stark black and white - often lit in very stark, cold blue-white by lighting designer Howard Harrison - with a circular, rising platform in the centre for Florence to take her place at the centre of this swirling society, but it doesn't depict any particular time or place in a naturalistic way. The costumes, however, are right out of the 'flapper' era.
Although director Jo Combes talks in the programme rather vaguely about contemporary thematic parallels, this play is really a window to a very specific time, place and section of society (although there may be some interesting parallels with the 'yuppie' culture of the 1980s) and a critique of the emptiness of the lives of those who made a show of their money and of living for pleasure. It seems to take a long time to make this rather simple point, and this is emphasised by the uneven pace and sometimes awkward staging of this production. Although there are some good performances, some good comedy and a chance to see a big-name pop star who has obviously worked very hard on a part he should probably not have been offered as his debut performance, this is a very short show for a Royal Exchange production but still manages to seem drawn out and slow in parts.
Reviewer: David Chadderton