Votes for Women!
Jan van der Black
Polymorth Theatre
theSpaceTriplex
–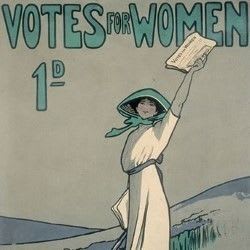 The British government didn't wake up one morning in the early part of the 20th century and say, "votes for women sounds like a good idea, let's do it". They were forced to grant women the vote by mass pressure and political militancy.
We are reminded of this in Jan van der Black's play Votes For Women! by the figure of Emmeline Pankhurst (Emilie Maybank) saying, "we have to become law breakers before we become law makers."
This short, entertaining play traces some of the events and people that helped shape Emmeline's politics.
There is the early encouragement of parents committed to suffrage, a key meeting she attended to see a woman speaker who inspired her and, importantly, her contact with the man she was to marry, Richard Pankhurst (Jan van der Black), who had been campaigning for women's property rights
However, as Emmeline grew more frustrated with the intransigence of government, she became one of those who heckled and disrupted Liberal Party speakers.
Such action got them dubbed suffragettes by the Daily Mail. They embraced the term and their campaign continued with the breaking of windows, arson, slashed paintings and prison hunger strikes.
But these struggles had a cost that included the death of the suffragette Emily Wilding Davison. Emmeline's politics also resulted in an estrangement from her daughter Sylvia and a breach with many of the political activists she worked with.
But Jan van der Black's account of Emmeline Pankhurst is always warm, engaging and well performed.
Reviewer: Keith Mckenna